Join fan-favorite virtual star Miss Monochrome as she puts on an incredible musical performance for all her devoted fans on Saturday, July 7th! Voice actress/music artist, Yui Horie, will also be making a special guest appearance.
Event Details
Showmaker Presents: Miss Monochrome & Yui Horie!
Date: Friday, July 6th
Time: 1:30pm-2:30pm
Room: LACC\Workshop 1 (403B)
Showmaker Live: Miss Monochrome & Yui Horie!
Date: Saturday, July 7th
Time: 3:00pm-4:00pm
Room: Live Programming 2 / JW Marriott – Platinum Ballroom
For information about lining up and room entry, please see the Program Room Policies
About Miss Monochrome
Miss Monochrome is a Bishojo idol produced by voice actress Yui Horie. She made her debut in March 2012, at Yui Horie's concert "The Adventure Over Yui Horie III~Secret Mission Tour~." In October 2013, Miss Monochrome: The Animation aired for the first time on TV Tokyo, and it was followed by Miss Monochrome: The Animation 2 and Miss Monochrome: The Animation 3 in 2015. She has released a total of 10 single CDs and 2 album CDs, and continues to produce popular musical performances. Her signature phrase is "I want to be a star!"
©ミス・モノクローム製作委員会
About Yui Horie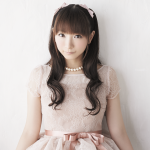 Yui Horie is a popular Japanese voice actress and music artist. She has released 19 single CDs and 9 album CDs so far.  She has had live concert performances in Nippon Budokan in 2009 and in Yoyogi National Gymnasium in 2015. As a voice actress, she has starred in roles which include Anna Kushina from K, Millhiore from Dog Days, Minori Kushieda from Toradora, and Tsubasa Hanekawa from the Monogatari series.
---
Anime Expo 2018  will run from July 5 through July 8 at the Los Angeles Convention Center, with Pre-Show Night on July 4, 2018.
For more information about attending AX, check out our How to Attend guide.