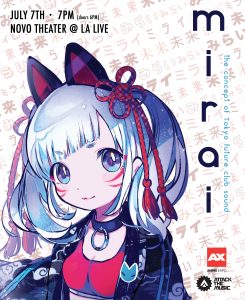 Explore the next generation sound of Japan's club scene, inspired by rising trends in net culture and independent creative movements. Featuring a lineup of artists who have been shaking things up with their own unique sound, Mirai delivers an authentic experience driven by Tokyo's music subculture. From Japan to the Internet and now to Anime Expo, this one of a kind event is a crash course in the future club sound concepts of Tokyo.
Event Details
Artist Line-up: ☆Taku Takahashi, YUC'e, 2ToneDisco, Voia, and Hikeii
When: Saturday, July 7 @ 7 PM – 11 PM
Where: The NOVO
Tickets: $30-65
VIP Ticket includes a special Meet & Greet After Party event with the artists and access to the PIT right in front of the stage.
To attend Mirai: The Concept of Tokyo Future Club Sound, attendees can present a valid AX 2018 badge of any type, including all 1-day and Pre-Show badges*, along with a concert ticket.
About the Performers
☆Taku Takahashi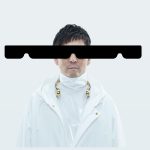 Taku Takahashi launched his career in 1998 as the DJ/Producer of the J-pop music group "m-flo". The group quickly rose to prominence, and over the last decade have sold over 2 million copies of their 30 singles and 10 albums. Taku Takahashi is also well known for his solo work as a producer/songwriter, remixing music for prominent artists such as Calvin Harris, The Ting Tings, Morgan Page, and SMAP, spanning various genres from all over the globe. Winning the "Beatport Music Awards 2011 Top Tracks" with his "Incoming… TAKU Remix", he has proven himself as an elite player in the Japanese dance music scene. Taku Takahashi also served as supervisor to the soundtracks for the hit Japanese anime "Panty & Stocking with Garterbelt" as well as making waves in the music industry for his work with the drama/movie ''Nobunaga Concerto''. In 2011, Taku Takahashi embarked on his most ambitious venture yet, establishing Japan's first and only Dance Music Radio Station "block.fm". Currently boasting upwards of 40 programs including exclusive mixes from world-famous international DJs, block.fm is gaining strong attention as it's fan base rapidly continues to grow. Praised for his prominent role in the Japanese dance music industry, Taku Takahashi was voted the number 1 DJ for three years straight, by Japan's most well-known dance music publication "iLOUD" for their annual "DJ 50/50" top DJ list.
YUC'e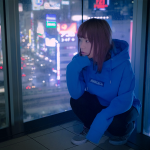 As a lyricist, songwriter, arranger, singer, and mix engineer YUC'e performs in Tokyo and internationally.
YUC'e launched her career in 2015. She has performed in the US in 2017/5 in Chicago as well as in 2017/7 at Anime Expo. In 2017/10 she self-released her first album, "Future Cαke". The album's title song hit #1 on the Spotify Viral charts for a consecutive 11 days.
YUC'e has been featured in Anime series "Monogatari" & "Aikatsu!" and remixes for m-flo & Dean Fujioka. In the gaming world she has appeared as a singer in musical games such as KONAMI's "beatmania IIDX" and SEGA's "CHUNITHM."
Hikeii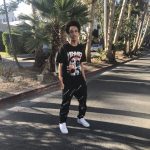 Hikeii is a 20-year-old producer from Aruba based in Los Angeles. His unique production and remixing abilities fusing genres such as house, dancehall, jersey club, jungle terror, trap, future bass, and soca elements have amassed attention from icons such as Diplo, Skrillex, Lido, and Mad Decent. Despite his age, he has been making a name for himself DJing on world stages, from LA's iconic Brownies & Lemonade, to EDC to Coachella to even touring Japan alongside Mad Decent. Most recently, Hikeii premiered a mix on BBC Radio's Diplo and Friends as well as official remixes of Major Lazer, Cashmere Cat and Tory Lanez hit "Miss You" and Louis The Child's new song "Better Not". He's a hard figure to miss and isn't just making a name for himself in music from modeling for Jaden Smith and OWSLA to appearing in Justin Bieber music videos, Hikeii is definitely one to watch.
Voia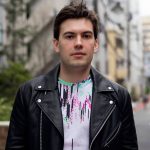 Originally from New York City, Voia is a singer and a music producer who draws inspiration from video games and Japanese culture to create catchy and expressive pop music. Following the successes with his debut album 'Futuresong' last year, Voia has worked alongside premiere Japanese producer TeddyLoid on the track 'Null Zone' and has made appearances on ☆Taku Takahashi's block.fm radio program, "MIX BLOCK." Most recently, Voia has contributed to Japanese pop star Koda Kumi's most recent release, "Driving Hit's 8" and is releasing a new track Attack the Music's annual label compilation, FREQUENCY BLITZ 6.
2ToneDisco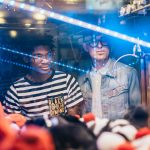 2ToneDisco is an electronic production duo who truly lives by their diverse style, love of video games and anime, and the sounds of the internet. Members Omni Rutledge and James Campbell joined forces in 2013 in the Arizona club scene, and after some studio time together, things just clicked.
Within no time, the duo caught the eyes and ears of Play Me Records, an electronic label driven by Reid Speed. In 2014, Play My Records signed their first major release, "Catnip." Following a wave of successful releases, 2ToneDisco won Insomniac's 'Discovery Project', and was invite to play Insomniac's Escape: All Hallows' Eve, 2014. Fast forward to releases on Buygore Records, OWSLA's NestHQ, and an official remix for Ultra Music, 2ToneDisco's distinct sound, and presence solidified their place in the LA underground scene. No matter where you are on the globe, a trip through 2ToneDisco's discography will transport you through a spiraling wormhole of internet culture, pizza, and gaming euphoria.
Embracing their passions for video games, fashion, and Japanese culture, 2ToneDisco has interwoven all of these aspects into their brand. From 8-bit synths, to anime and internet themed graphics, their live act features Omni on the synth and effects rack, with James mixing and mashing through both originals and some of the best in underground and charting tracks from around the globe.
---
Anime Expo 2018  will run from July 5 through July 8 at the Los Angeles Convention Center, with Pre-Show Night on July 4, 2018.
For more information about attending AX, check out our How to Attend guide.
*Please note that Pre-Show Night badges are available to purchase through July 4.