As 2018 draws to a close, we want to take some time to look back and reflect on this past year's Anime Expo and to share a little insight into what to look forward to in the new year.
Badges
Badges were front and center for 2018! Before we even opened the doors to AX 2018, we made two significant changes to the badge process: adopting RFID and implementing badge mailing. Both changes were made to improve the overall attendee experience by streamlining the badge pick-up and building entry process.
Recognizing the need for badge mailing, we began making this a reality long before July. With tens of thousands of badges expected to be distributed in a timely manner, that's easier said than done! In the end, it was well worth it — the feedback from fans was positive and it helped make entry go much more smoothly.
The second big badge change was to implement RFID. To ensure that the building entry process would be as smooth as possible for AX attendees, we worked hard to examine and plan for all possible scenarios before we revealed the switch to RFID.
Once we announced RFID badges for 2018, we were pleased that we immediately saw many positive and excited responses!  Once we opened the Convention Center doors, we were able to improve the entry process significantly! But don't just take our word for it, check out some of the comments that we received from attendees:
@AnimeExpo just finished my first day (out of four) at AX today and just really want to let you guys know you vastly improved the situation from last year with your changes to lines and stuff. Barely spent 30 minutes outside before getting in, looking forward to tomorrow!

— CappnRob (@CappnRob) July 6, 2018
Anime expo is off to a much better start than last year. The lines to get in aren't outrageous like last year.

— ManimeMatt (@ManimeMatt) July 5, 2018
Guest & Industry Appearances
AX 2018 hosted nearly 200 guests and industry appearances, Guests of Honor, performers, voice actors, and creators who were on-site to mingle and delight attendees. We were honored to be in the presence of so many notables who shared their knowledge and passion with attendees including Guests of Honor Go Nagai, Hiromi Wakabayashi, Mari Okada, Shinji Higuchi, and SUSHIO.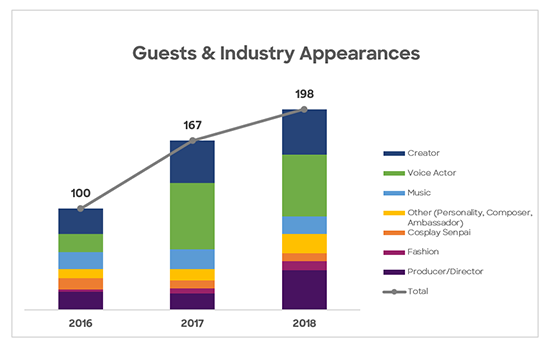 Events
Fans were able to take in four nights of incredible concerts at the Microsoft Theater during Anisong World Matsuri which featured nine global acts and, for J-pop and dance music fans, m-flo presents OTAQUEST LIVE powered by LDH USA didn't disappoint.
We were extremely pleased with our anime line-up which included nearly 20 World & US Premieres!  AX 2018 featured a plethora of films and series making their debuts, such as MY HERO ACADEMIA: Two Heroes, Flavors of Youth, SSSS.Gridman, Liz and the Blue Bird, and XOGENASYS.
By The Numbers
The Exhibit and Entertainment Halls featured more than 524 Exhibitors covering 171,000 sq ft. Additionally, AX 2018 featured 900+ hours of programming. And, for the second year, AX live streamed 50+ hours of content reaching fans globally.
More than 1,700 volunteers collectively put in 80,000 hours throughout the week to ensure that AX ran smoothly for all attendees, exhibitors, and guests.
You thought the crowds were large – and they were! AX 2018 saw 110,000 attendees (a number that we purposely capped to ensure a quality event) and 350,000 turnstiles over the show's four days.
Changes and Challenges
We start planning for next year's show as soon as the halls empty-out, discussing what worked and what didn't, researching new options, and deciding what to implement next year. With our years of experience, we do our best to look into the future and anticipate all possible outcomes and plan accordingly.
We were very honored to be able to host the world premieres of highly-anticipated titles such as MY HERO ACADEMIA: Two Heroes and Attack on Titan Season 3, all of which created an exceptionally high demand for seats. The excitement for these premieres meant that we had to cap lines and implement a wristband policy as the fairest way to address the audience demand.
For 2018, we revamped the building entry procedure. Reworking the security checkpoints areas, and the introduction of the RFID badge, both helped to better distribute crowds throughout our event. We will continue to look to improve the traffic flow to make navigating our event as easy as possible.
To further help fans navigate the show, this year we redesigned our signage and maps to be easier to read and to provide more continuity from Hall to Hall.  For instance, all signs related to South Hall were red, Kentia Hall yellow and the West Hall signs were blue. For additional clarification, one of our mascots characters also corresponded with each section.
With temperatures in the triple digits, Mother Nature was not very cooperative at AX 2018. We recognize that it was sizzling hot, especially for those in cosplay, and everyone was seeking to be inside to enjoy the AC. In advance of the show, we worked with the Los Angeles Convention Center to make sure that the AC system would be running at its highest capacity throughout the five days. We also used our mobile app and social media several times a day to communicate current weather conditions, remedies for battling the heat, and reminders to hydrate. Let's all hope for cooler weather next July!
Future Goals
As we go into our 28th year, our goals continue to remain the same: to celebrate all that encompasses the Japanese pop culture; it's about creating an opportunity for fans to connect with their favorite creators and with each other.
As Anime Expo has grown, so too has the demand for various aspects of our event. It's a fluid show and we are continually evaluating what works well and what doesn't and that can change from year to year – it's never the same show twice. We never want to settle, so we strive to make Anime Expo the best it can possibly be every single year.
With success comes demand.
Badges will sell-out and fast – as we saw recently with our Cyber Monday promotion. Our suggestion is don't delay, don't wait! We encourage all fans to start planning to attend AX 2019 sooner rather than later – check-out our Budget Worksheet and How to Attend AX guide to help make AX 2019 the best experience for you.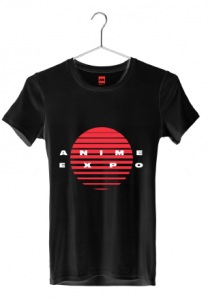 Did you like our AX-branded portable charger, hat, or jacket last year? Many others did too as those items sold out before the end of the show! Keep your eyes peeled for even more merchandise in 2019. We plan to bring back the popular MAX jacket, increase the selection of AX official merchandise in 2019, and have more quantities of each item available to purchase so everyone can show-off their AX pride!
We're also working on not one, but two exciting collaborations for our 2019 merchandise line up! Stay tuned for more details to come in the new year!
All of us at Anime Expo wish you a very happy holiday season! Be sure to check back in the new year for hotel block information and other updates, as AX 2019 is just a little over six months away!
(And if you're still not quite done with your holiday shopping, an AX 2019 badge makes an excellent gift!)
Happy New Year! ヽ(〃・ω・)ノ★,。・:・゚