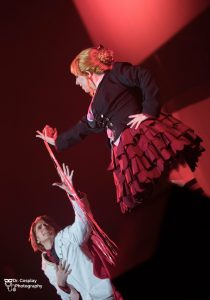 Anime Expo is proud to once again host the World Cosplay Summit USA Finals! Taking place during the AX Masquerade, WCS USA operates as a separate competition in accordance with its own rules and regulations.
To better prepare US cosplayers for this amazing event, this year we will be selecting both WCS Team USA 2019 AND WCS Team USA 2020! The WCS USA 2019 and 2020 Finals will take place on July 6, 2019, with construction judging on July 4th and 5th. Please be sure to carefully read the WCS USA Final Rules. 
As the WCS USA Finals at Anime Expo is just a few weeks before the WCS Championship in Japan, selecting two teams this year will provide for Team USA 2020 to have a full year to prepare for the competition. Applying teams should be prepared for the possibility of being selected for either 2019 or 2020.
Moving forward starting in 2020, the World Cosplay Summit USA Finals at Anime Expo will select WCS Team USA for the following year's Championship in Japan.
Before filling out the application, please note:
All entries must be teams of two (2) people.
 No content or source material may be mature (or 18+) audiences only.
All applicants must have either proof of permanent residence in the United States or proof of citizenship available for review by SPJA at Anime Expo.
All applicants must be available for the Championship in Japan from July 24th to August 6th, 2019 OR WCS Championship 2020 (Dates TBA).
*Please note: You will only need one set of costumes for the WCS USA Finals (which will become your Championship costumes in Japan). The event in Japan will require at least 3 additional costumes supplementary to your Championship costume. A 4th additional costume is recommended but not required.
All applicants must be 18 years old or older, to be verified by a government-issued ID by SPJA at Anime Expo.
All applicants must be aware of the official WCS rules and regulations listed here.
Application Timeline:
Sign up form opens Monday, January 14th, 2019, at 12 PM PST.
Applications will be accepted from January 14th, 2019 through January 25th, 2019 11:59 PM PST.
Applications will be reviewed from January 26th, 2019 through January 31st, 2019. All applicants should receive a response by the end of January.
Questions? Email us at wcsusa@anime-expo.org for assistance.