Now introducing the shiny new AX 2019 mobile app! We're rolling it out early so you can get started planning ASAP!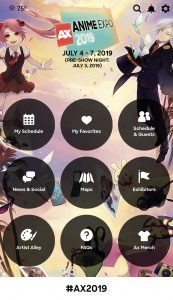 With the mobile app, not only will you be the first to hear about big announcements, you'll also be able to fully customize your at-con plans. Putting together your shopping list? Add your favorite Exhibitors and Artists to "My Favorites." Prepping the order of your schedule? Pick and choose your favorite programming to add to "My Schedule." Excited about a certain guest? Give that guest a Like and let them know you're coming to see them!
The schedule and events will continue to update as we get closer to con, but for now, happy planning!



The beautiful background art is by Zelda C. Wang and is also the art that will be on the AX 2019 program guide cover!