We are excited to welcome Annshella, Jenny Nobile, KeltonFX, Leena, and The Samurider as our 2019 AX Masquerade & World Cosplay Summit USA Finals judges!
Annshella, KeltonFX, Leena, and The Samurider will participate in panels and autograph sessions, schedule info TBA. Jenny Nobile & Pollard's Sew Creative's sewing and embroidery machine display can be found in the Entertainment Hall.
Meet the Judges:
About Annshella
While being a cosplayer can be a hard, Anshella has been a cosplay addict since she began crafting her own costumes in 2006. She discovered cosplay through Yaya Han's website and immediately fell in love with the hobby. She was inspired to improve her own skill and create the best costumes possible for herself. She loves to bring her favorite characters to life, experiencing conventions and creating costumes.
Through hard work and passion, she won many events representing her home country of France including the London Super Comicon Championship, Group Champion for European Cosplay Gathering Season 5, and Overall Champion Team at 2017 Clara Cow Cosplay Cup Finals. This past summer she represented France again at World Cosplay Summit as Team France 2018. Her goal is to attend many conventions, meeting new people and making new friends.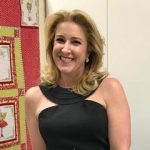 About Jenny Nobile
Jenny Nobile is the owner of Pollard's Sew Creative, a family owned business for 23 years where she teaches classes in sewing, software and embroidery. Some of Jenny's work can be found in magazines such as Threads, Sew News and Machine Embroidery & Texture Art. Pollard's is a proud sponsor and vendor at Anime Expo and is committed to supporting the future sewers and cosplayers in their quest for sewing and embroidery knowledge.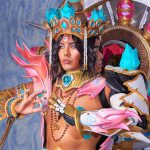 About KeltonFX
Kelton Ching (KeltonFX) is a professional Special Effects Makeup Artist and award-winning costumer. His work has been featured in music videos by Rob Zombie, CharliXCX and online content from Rocket Jump, IGN Entertainment and SMOSH. Most recently, he served as the lead Special Effects Makeup artist on the horror film The Cleaning Lady (2018) by Jon Knautz. In 2018, he was the Overall Champion of the Blizzcon Costume Contest with his original design, "The Creator," a male version of Symmetra from Overwatch. The costume took 13 months to create from research, to design and fabrication and was heavily inspired by Hindu Mythology and Classical Indian Dance.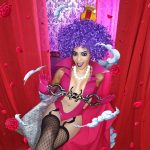 About Leena
Leena is a cosplayer from France who has always loved anime, manga and video games. When she first discovered cosplay, she immediately fell in love with the artistic mix of craftsmanship and performance. She loves being on stage and performing in contests around the world. Leena represented France twice at the World Cosplay Summit 2006 and 2018 and in 2010 at the Shanghai World Expo. Recently her passions have been judging cosplay contests and building Cosplay Shows, coordinating dozens of cosplayers on stage.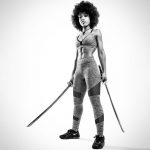 About The Samurider
The London-born-and-bred Shaina West, or "The Samurider," dedicated herself to learning martial arts at the age of 21 following a horrific motorcycle accident that left her feeling helpless and weak. The strength and poise that is such a prominent feature of anime characters was a huge inspiration to Shaina to get back up again.
With strict discipline, she was able to teach herself martial arts using YouTube tutorials. She posted a few videos of herself mimicking the Greats which got an immediately positive and supportive response. The rest is history.
Through hard work and dedication, she is now a real-life version of the Japanese characters she so admires. Shaina has worked with global brands including Disney (Stars Wars), MCM Comic Con, Bowen, Fitness First, Fierce Grace Brixton and Adidas at their Alpha Bounce Event. Shaina is currently working on a new tutorial-based series of YouTube videos to help others find their inner warrior!