We're excited to welcome CyberConnect2 executive vice president Taichiro Miyazaki and 3D model artist Keven Ouellet to Anime Expo 2019, where they'll be presenting the latest news about CyberConnect2's first self-published title, Fuga! Both will be participating in autograph sessions, schedule info TBA.
Event Details
Panel Name: Japanese game creativity with new game from CyberConnect2
Date: Friday, July 5
Time: 5:30 – 6:30 PM
Room: Live Programming 4 / 411
Panel Name: The environments of foreign nationals working in Japan
Date: Sunday, July 7
Time: 12:00 – 1:00 PM
Room: Workshop 1 / 403B
Their appearances at Anime Expo 2019 are made possible by CyberConnect2.
For press inquiries, please contact kouhou@cc2.co.jp
About Taichiro Miyazaki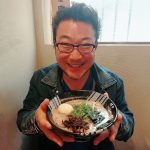 Starting out at a trading firm (business activities for CG software, and gaming development hardware), to working in CG production, Taichiro Miyazaki joined CyberConnect2 in 2010. At CyberConnect2, he is in charge of managing personnel, accounts, contracts both domestically and abroad, as well as selecting outsourcing companies. In addition, he is in charge of managing the development section.
About Keven Ouellet
Keven Ouellet was born in the city of Longueuil, just outside Montreal, Canada. He graduated from l'École NAD – UQAC with a certificate in 3D animation and numeric design, and worked as 3D generalist and vehicle artist on contracts before joining CyberConnect2 in 2017. He is one of the starting members of CyberConnect2 Montreal Studio Inc. and has directly worked in the head office at Fukuoka. Insightful on the workflow differences between Montreal and Fukuoka, Keven has contributed his expertise as the main 3D model artist in the production of Fuga, the first self-published IP under development at CyberConnect2.
---
Anime Expo 2019  will run from July 4 through July 7 at the Los Angeles Convention Center, with Pre-Show Night on July 3, 2019.
For more information about attending AX, check out our How to Attend guide.
Download our mobile app to stay up-to-date on announcements!