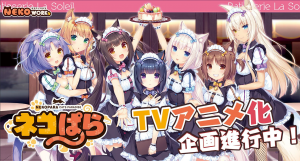 The creator and illustrator behind the NEKOPARA series, Sayori, will be joining AX 2019! She will be on hand to talk about the upcoming NEKOPARA anime TV series premiering at Anime Expo! She will also be participating in autograph sessions (schedule info TBA)
Event Details
Panel Name: NekoPara Anime TV Series Premiere
Panel Description: Meeeow! Join Sayori, the founder of NEKO WORKs as she premieres the animated TV series of her world famous NEKOPARA series at Anime Expo! We'll show the entire first episode then talk with both Sayori and a special guest regarding the world of NEKOPARA and translating it to TV!
Date: Saturday, July 6
Time: 11:30 AM – 1:00 PM
Room: Live Programming 2 / JW Platinum Ballroom
For information about lining up and room entry, please see the Program Room Policies
Sayori's participation in Anime Expo 2019 is made possible by Sekai Project.
For press inquiries, please contact marketing@sekaiproject.com.
About Sayori
Sayori is the creator and character designer behind the wildly popular visual novel series NEKOPARA which has sold over a million units worldwide. Renown for her drawing style and the cute characters she creates, Sayori is well known not only in Japan but around the world as well. Recently, NEKO WORKs and Sekai Project teamed up again to launch one of the most successful Kickstarter campaigns ever in the animation category crowdfund the NEKOPARA OVA and prequel NEKOPARA Extra OVA which was released worldwide in 2017 and 2018 respectively. A NEKOPARA TV series has been announced with the first episode to be premiered at Anime Expo 2019.
Sayori is appearing courtesy of Sekai Project.
---
Anime Expo 2019  will run from July 4 through July 7 at the Los Angeles Convention Center, with Pre-Show Night on July 3, 2019.
For more information about attending AX, check out our How to Attend guide.
Download our mobile app to stay up-to-date on announcements!