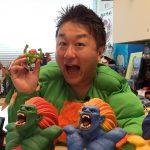 We're excited to welcome prolific videogame producer, Yoshinori Ono, as a Guest of Honor at Anime Expo 2019!  Yoshinori Ono is one of Japan's most popular videogame producers. With over 25 years of experience at Capcom, he has worked on a variety of legendary franchises, including Onimusha, Monster Hunter and Street Fighter. In his early days with the company, he worked as a sound designer on Super Street Fighter II for the PC. Years later, he was promoted to the role of producer, where his smash hit title, Street Fighter IV, reinvigorated the fighting game genre and paved the way for a whole new generation of players to enjoy the intricacies and depth of the series. Currently, as executive producer for the Street Fighter series, Ono-san continues to blaze a trail for fans and aspiring game creators alike with his latest project, Street Fighter V: Arcade Edition.
Ono will participate in a panel and autograph sessions (schedule TBA)
---
Anime Expo 2019  will run from July 4 through July 7 at the Los Angeles Convention Center, with Pre-Show Night on July 3, 2019.
For more information about attending AX, check out our How to Attend guide.
Download our mobile app to stay up-to-date on announcements!