We're excited to welcome Toshinobu Kondo to Anime Expo 2019 for his first overseas convention appearance! Kondo is the founder and CEO of Studio Saizensen, best known as a character designer and producer of the Umihara Kawase series.
He will participate in autograph sessions (schedule TBA).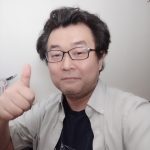 Born in 1969, Toshinobu Kondo taught himself Z80/68000 machine-language programming while he was still in high school. He made his debut as a manga artist at the age of 21, and after freelancing as a digital artist for several console and computer games, the success of Umihara Kawase allowed him to found the game development company Studio Saizensen at age 28. At age 32, he created the popular Shaman King trading card game. At 34 years old, he participated in animation design work for the Stellvia anime series…and at 49, he's making his first appearance at Anime Expo!
---
Anime Expo 2019  will run from July 4 through July 7 at the Los Angeles Convention Center, with Pre-Show Night on July 3, 2019.
For more information about attending AX, check out our How to Attend guide.
Download our mobile app to stay up-to-date on announcements!