Located in Kentia Hall adjacent to Artist Alley, The Annex features cutting-edge fashion and art. The Annex is a place to discover something new, something edgy, something fun and exciting.
This year, we're excited to showcase Tokyo-based Shinnosuke Uchida and Pasadena-based Jared Yamahata. They will both be working on large-scale art pieces, so be sure to stop by The Annex to see their artwork evolve over the course of Anime Expo. Plus, visit the Charity Auction on Sunday for a chance to own one of their pieces.
About Shinnosuke Uchida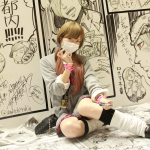 When self-taught artist Shinnosuke Uchida first presented her work to her favorite manga publisher, they rejected her retro style. Though broken-hearted, not only didn't she give up, she went big by becoming the world's only wall-manga live paint artist. Since then she has been invited outside Japan to live paint in Spain, Russia, Italy, Germany and now for the first time in the U.S. at Anime Expo. In partnership with Tokyo Direct (Japanese pop artist collaborators), Uchida will live paint and sell her original T-shirts, designs and other goods.
About Jared Yamahata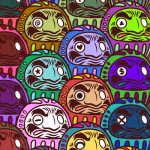 Jared Yamahata is an artist and illustrator living in Pasadena.  Jared often uses pop culture references and graphic design to create fun and witty images. His style has allowed him the privilege to work with such as brands as FOX Sports and FORBES Spain. In addition to freelance illustration, Jared also loves participating in local communities and organizations to develop public artwork, most recently Sustainable Little Tokyo's "Windows of Little Tokyo" and Nisei Week. Anime Expo 2019 is Jared's first year working with the convention and he is very excited to share the community's passion for anime.
http://www.jaredyamahataartwork.com
---
Anime Expo 2019  will run from July 4 through July 7 at the Los Angeles Convention Center, with Pre-Show Night on July 3, 2019.
For more information about attending AX, check out our How to Attend guide.
Download our mobile app to stay up-to-date on announcements!