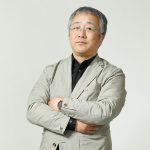 We are ecstatic to welcome the legendary Katsuhiro Otomo to Anime Expo 2019! We're welcoming him back to Anime Expo after his previous appearance at AnimeCon 1991, which was our predecessor event! He will participate in a panel on July 4th at 5:00 pm where he will announce a new project!
Event Details
Panel Name: Legend, Katsuhiro Otomo New Projects Announcement
Date: Thursday, July 4
Time:  5:00 PM – 6:00 PM
Room: Live Programming 2 / JW Marriott Platinum Ballroom
For information about lining up and room entry, please see the Program Room Policies
About Katsuhiro Otomo
Katsuhiro Otomo is a legendary Manga Artist and Film Director, born in Miyagi 1954. He debuted with Gun Report in 1973 as Manga Artist and was awarded Nihon SF Taisho with "DOMU" in 1983. Otomo directed AKIRA in 1988 based on his own manga works, which shocked people worldwide with its detailed drawing work and dynamic visual delivery. Throughout his career, he has received many awards including the "Medal with Purple Ribbon" from the Japanese Government in 2013, the award to "individuals who have contributed to academic and artistic developments, improvements and accomplishments." He also received a Medal of Arts and Culture Chevalier and Ofishie in 2005 and 2014 by French Government as well as the Winsor McCay Award at Annie in 2014.
Other notable works include Steam Boy, MEMORIES, and Combustible from Short Piece.
---
Anime Expo 2019  will run from July 4 through July 7 at the Los Angeles Convention Center, with Pre-Show Night on July 3, 2019.
For more information about attending AX, check out our How to Attend guide.
Download our mobile app to stay up-to-date on announcements!