The cast of Netflix's Little Witch Academia English dub will be at Anime Expo 2019! Voice actresses Alexis Nichols, Caitlyn Elizabeth, Karen Kahler, Laura Post, Marianne Miller, and Rachelle Heger will be doing a Q&A all about the show!
Event Details
Panel Name: Netflix Original Series Little Witch Academia
Panel Description: Come join Sucy, Diana, Shiny Chariot, Barbara, Amanda, Croix, and Professors Ursula, Finnelan, & Lukić for a fun-filled cast Q&A about your favorite spellcasters from the 2016 Trigger Studios & Netflix Series Little Witch Academia's English Dub!
Date: Sunday, July 7
Time: 10:00 – 11:00 AM
Room: Workshop 2 / 406AB
For information about lining up and room entry, please see the Program Room Policies
About Alexis Nichols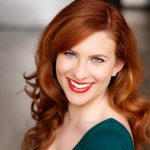 Alexis Nichols is an award-winning actor & voiceover talent. Her first animated feature film & TV series can be found on Netflix, where she voices three characters (Shiny Chariot, Professor Ursula, & Barbara) in the English dub of Little Witch Academia. She has recorded numerous voiceover spots including commercials for Disney's Aulani Resort, QVC, Mercedes Benz Fashion Week, and Sesame Street's Sesame Place Theme Park, as well as a variety of audiobooks and the help screen on current Motorola phones. She was recently nominated for a Voice Arts Award. On camera, she is most noted for appearing as Lucille Ball in Becoming Lucy at the Festival De Cannes Court Metráge. Follow Alexis on Twitter & Instagram @_AlexisNichols_.
About Caitlyn Elizabeth
Born and raised in southern Indiana, Caitlyn Elizabeth has been many things. A classical bassist, metalsmith, top hat vendor, vocalist, LARPer, video game and tech journalist, script adapter, baker, and martial artist. In Los Angeles she retains most of those titles, but predominantly works as a voice actress and Nerd On! the Podcast host.
You might've heard her in Little Witch Academia as Croix Meridies, Kate in Gundam Thunderbolt: Bandit Flower, Cronola in Hells, Veliche in MapleStory 2, Mecha Furia in Paladins, or in commercials across the radio, web, and TV.
About Karen Kahler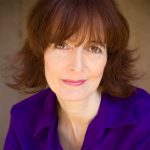 In addition to voicing Professors Finnelan and Lukić in Little Witch Academia, SoCal actor Karen Kahler is best known for her work in videogames, including roles such as Susanna in Octopath Traveler, Madame Melville and Pauline Lafleur in Ghost Giant, Oneida and FloHop in Dust: An Elysian Tail, and Justicar Trueheart, Eydis Darkbane, Alexstrasza's Champion, and Darnassus Aspirant in Hearthstone: Heroes of Warcraft. On-camera credits include Pretty Little Liars and award-winning shorts Stem and The Isolationist. Watch for her as wry judge Jane in the upcoming web series Judgment Call.
About Laura Post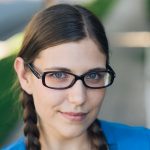 Laura Post, voice of Diana Cavendish in Little Witch Academia as well as the Voice Director for the series, is a voice actor best known for her roles as Ahri in League of Legends, Primrose in Octopath Traveler, Ragyo Kiryuin in Kill La Kill, Harley Quinn in Telltale's Batman: The Enemy Within, and Big Barda and Circe in Justice League Action.
Other roles include Nozomi in Love Live, Blizzard in One Punch Man, Isabella in The Promised Neverland, Valentine in Skullgirls, and Queen Azshara in World of Warcraft.
You can follow Laura on Twitter and Instagram @LauraPostVoice.
About Marianne Miller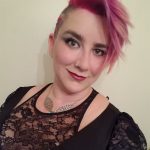 Marianne very rarely stops talking, so when she realized that she could make money off of it, she immediately leapt at the chance to do so. Marianne is a voice actress and writer, working in Los Angeles in a variety of productions, anime and otherwise.  Marianne is known for her work as Mossan in FLCL: Alternative,  Amanda O'Neill in Little Witch Academia and The Enchanted Parade, Kyosuke in Madoka Magica, Gloxinia in Seven Deadly Sins, Izanami in B: The Beginning, Satoshi in Anohana, Recon in Sword Art Online, Yuta in Squid Girl, Viola in Radiant Historia: Perfect Chronology, Mirina in Etrian Odyssey V, and young Kiristugu in Fate/Zero, as well as many others.  When Marianne isn't behind a mic, she can usually be found behind the scenes elsewhere in production coordination or script adaptation.
About Rachelle Heger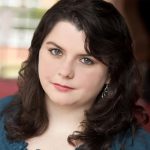 Rachelle Heger is a LA-based voice actress who has been a part of various video games, anime, and animated series. Born and raised in Massachusetts, Rachelle moved to the west coast to pursue voice over. Rachelle is most well known for her work as Sucy in Little Witch Academia and Little Witch Academia 2: The Enchanted Parade, Leanne in Fire Emblem: Heroes, and Miana in the Godzilla trilogy on Netflix. Other roles include Mittens in Lala Loopsy Girls, Olivia in Lego Friends, Truffles in Disney Palace Pets, Pearl in the upcoming game Undead Darlings, Gundromeda in Heroes of Newerth, and various voices in Persona 5. Rachelle has also provided additional voices for RuneStory, Persona 4: The Animation, and Kill la Kill.
In addition to voice acting, Rachelle is also a streamer. She streams various video games on her Twitch channel, twitch.tv/rachellular. As well as working in the anime industry, Rachelle has been a longtime fan of anime and video games, and loves to keep up to date on the newest titles.
---
Anime Expo 2019  will run from July 4 through July 7 at the Los Angeles Convention Center, with Pre-Show Night on July 3, 2019.
For more information about attending AX, check out our How to Attend guide.
Download our mobile app to stay up-to-date on announcements!