We're excited to welcome actress Kanae Yumemiya to Anime Expo 2019 as a Guest of Honor! She will be participating in a panel and photo sessions (schedule info TBA).
Event Details
Panel Name: Official Sailor Moon Manga Panel Presented by Kodansha Comics
Panel Description: Join the original Sailor Moon editor, Fumio Osano (affectionately known to creator Naoko Takeuchi and to fans as "Osabu"), producer Junichiro Tsuchiya, and staff from Kodansha Comics as they discuss the Pretty Guardians and the new Eternal Edition of the manga. Freebies and prizes, too!
Date: Saturday, July 6
Time: 1:30 PM – 2:30 PM
Room: Live Programming 2 / JW Marriott Platinum Ballroom
For information about lining up and room entry, please see the Program Room
About Kanae Yumemiya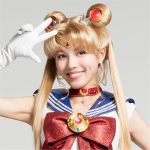 Kanae Yumemiya is an actress who has appeared in various Japanese TV shows, commercials, and movies.
She is best known as Sailor Moon/Tsukino Usagi in "Pretty Guardian Sailor Moon" The Super Live.
© T・P/SMTSL
---
Anime Expo 2019  will run from July 4 through July 7 at the Los Angeles Convention Center, with Pre-Show Night on July 3, 2019.
For more information about attending AX, check out our How to Attend guide.
Download our mobile app to stay up-to-date on announcements!