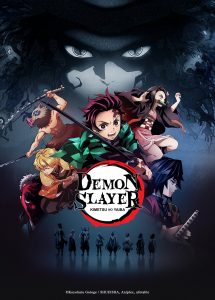 Join Aniplex at Anime Expo 2019 for a special Demon Slayer: Kimetsu no Yaiba panel! Attendees will get the opportunity to get an in-depth look at the show as well as receive an exclusive panel giveaway item!
Event Details
Panel Name: Demon Slayer: Kimetsu no Yaiba Special Event
Panel Description: Enter the realm of demons as the smash hit show "Demon Slayer: Kimetsu no Yaiba" comes to Anime Expo! Join Aniplex of America and a special guest for an exclusive look into one of this year's most talked about show and a free gift just for attending!
Date: Saturday, July 6
Time: 7:00 – 8:00 PM
Room: Live Programming 3 / 403AB
For information about lining up and room entry, please see the Program Room Policies
---
Anime Expo 2019  will run from July 4 through July 7 at the Los Angeles Convention Center, with Pre-Show Night on July 3, 2019.
For more information about attending AX, check out our How to Attend guide.
Download our mobile app to stay up-to-date on announcements!