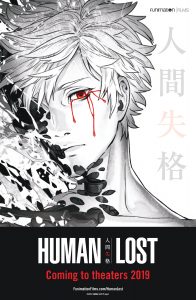 We're excited to host the North American sub premiere of the upcoming film Human Lost! Human Lost is a gripping sci-fi film based on Osamu Dazai's No Longer Human and from the director of Afro Samurai, the chief director of PSYCHO-PASS, and the studio that brought you Godzilla: Planet of the Monsters!
Come meet voice actor Mamoru Miyano, director Fuminori Kizaki, and marketing producer Toshiaki Obata! Plus, all attendees who join the Human Lost premiere will receive an exclusive giveaway item!
Kizaki and Obata will also hold an autograph session (schedule info TBA).
Their participation at Anime Expo 2019 is made possible by Funimation.
Event Details
Panel Name: Funimation Presents: Human Lost Sub Premiere Screening
Date: Friday, July 5
Time: 10:00 AM – 12:30 PM
Room: Live Programming 2 / JW Marriott Platinum Ballroom
For information about lining up and room entry, please see the Program Room Policies
Trailer
Synopsis:
From the chief director of PSYCHO-PASS, director of Afro Samurai, and the studio that brought you Godzilla: Planet of the Monsters.
The year is 2036. A revolution in medical treatment has conquered death by means of internal nanomachines and the "S.H.E.L.L." system, yet only the richest can afford to partake.
Yozo Oba isn't the richest. Troubled by strange dreams, he flippantly joins his friend's biker gang on an ill-fated incursion to "The Inside", where society's elite lives. This instigates a journey of terrifying discovery that will change Yozo's life forever.
About Mamoru Miyano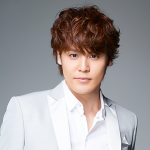 Japanese actor, voice actor, and singer
Miyano made his voice acting debut in 2001. His major roles include DEATH NOTE, Mobile Suit Gundam 00, Chihayafuru, STEINS;GATE, Ajin: Demi-Human, and Tokyo Ghoul, among others. He has lent his voice to the Japanese dub of the Fantastic Beasts series, as well as Spiderman: Into the Spider-Verse.
Miyano made his singing debut in 2008.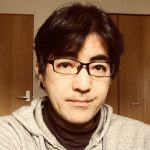 About Fuminori Kizaki
After graduating from Tokyo Animator College, Fuminori Kizaki worked as an animator for Studio Giants. Then he went on to establish a new studio called Hercules with some friends that shared the same ambitions. Later, Kizaki directed Afro Samurai series and Afro Samurai: Resurrection film, which was nominated for the Primetime Emmy Award for Outstanding Animated Program. His most notable works are Afro Samurai, Basilisk, and Bayonetta: Bloody Fate.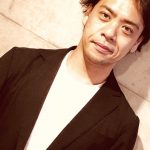 About Toshiaki Obata
Toshiaki Obata joined Gonzo in 2004, and he was in charge of marketing and licensing on many of Gonzo's titles. In 2011, he co-founded the company SlowCurve and worked as Chief Marketing/Advertising Producer for PSYCHO-PASS. He has expanded his career beyond PSYCHO-PASS as an Executive Producer of revisions, a new series on Fuji TV's +Ultra animation TV block, while collaborating with Netflix.
---
Anime Expo 2019  will run from July 4 through July 7 at the Los Angeles Convention Center, with Pre-Show Night on July 3, 2019.
For more information about attending AX, check out our How to Attend guide.
Download our mobile app to stay up-to-date on announcements!