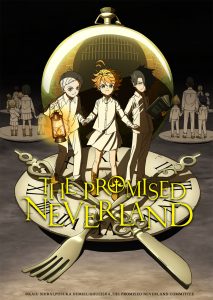 We're thrilled to welcome The Promised Neverland director Mamoru Kanbe as a Guest of Honor to Anime Expo 2019! He will be taking part in a special The Promised Neverland panel event alongside several special guests, voice actresses Sumire Morohoshi & Erica Mendez (Emma), Maaya Uchida & Jeannie Tirado (Norman), and Mariya Ise & Laura Stahl (Ray)!
Kanbe will also participate in autograph sessions (schedule info TBA).
Event Details
Panel Name: The Promised Neverland at Anime Expo
Panel Description: Aniplex of America invites you to fight your destiny in this world with The Promised Neverland event at Anime Expo. Join special guests as we explore the show Anime News Network calls "the must watch series of the year."
Date: Friday, July 5
Time: 1:30 – 3:00 PM
Room: Main Events / LACC Hall B
For information about lining up and room entry, please see the Program Room Policies
About Mamoru Kanbe
Mamoru Kanbe is an Animation Director whose repertoire features a wide range of works across all genres. He has served as Director for many prestigious anime series including Cosmic Baton Girl Comet-san, Elfen Lied, The Perfect Insider, and the Tegami Bachi series. Mr. Kanbe is currently working as the director for The Promised Neverland.
---
Anime Expo 2019  will run from July 4 through July 7 at the Los Angeles Convention Center, with Pre-Show Night on July 3, 2019.
For more information about attending AX, check out our How to Attend guide.
Download our mobile app to stay up-to-date on announcements!