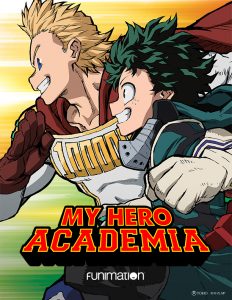 We're excited to announce that Anime Expo 2019 will host the My Hero Academia Season 4 Premiere presented by Funimation! Joining the premiere event are voice actors Kaori Nazuka (Toru Hagakure), David Matranga (Shoto Todoroki), Patrick Seitz (Endeavor), and Ricco Fajardo (Mirio Togata).
Event Details
Date: Saturday, July 6
Time: 10:00 AM – 12:00 PM
Room: LACC\Main Event (Hall B)

Due to high demand anticipated for this event, attendees must have an admission wristband in order to enter Main Events (Hall B) when doors open. Main Events admission wristbands will be free and distributed on a "first come, first serve" basis. Please keep an eye out for more information regarding wristband distribution time and details.
Please see our Program Room Policies for more information.
About Kaori Nazuka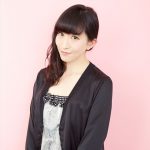 Japanese voice of Eureka, from Eureka Seven, and Toru Hagakure, from My Hero Academia.
Kaori Nazuka is a Japanese actress and voice actress best known for her role in Code Geass: Lelouch of the Rebellion (Nunnally Lamperouge) and Eureka Seven (Eureka). She will be reprising her role as Eureka in the upcoming U.S. theatrical release of ANEMONE: EUREKA SEVEN HI-EVOLUTION.
You can also see Ms. Nazuka in other shows such as UFO Baby, Amnesia, Fate/kaleid liner Prisma Illya, Fruits Basket, D.Gray-man, Les Miserables: Shojo Cosette, To Love-Ru, Fullmetal Alchemist: Brotherhood, Fairy Tail, and Pop Team Epic.
About David Matranga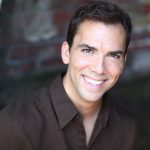 David Matranga has been working as a voice actor for over 18 years, voicing over 100+ roles. From his first lead role as Orphen in Orphen all those years ago, to more recent work in the popular simuldubs, voicing Shoto Todoroki in My Hero Academia, Bertholdt Hoover in Attack on Titan, Kiota in Black Clover and Luke in GARO -VANISHING LINE-, David has been featured in many of the most well-known and beloved shows in anime. He has worked for studios such as ADV Films, Funimation, Sentai Filmworks, Sound Cadence Studios and Okratron 5000.
About Patrick Seitz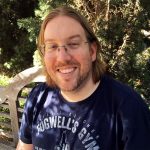 Between voice acting, script-adapting, and directing, Patrick Seitz has had the pleasure of working on hundreds of different video games and anime series over the past 20 years.
His voice credits include Endeavor (My Hero Academia), Franky (One Piece), Jiren (Dragon Ball Super), Germany (Hetalia), Dio (JoJo's Bizarre Adventure), Gamagoori (Kill La Kill), Artanis (StarCraft 2), Arthas Menethil and Garrosh Hellscream (World of Warcraft), Scorpion (Mortal Kombat), Ragna (BlazBlue), Chopin (Eternal Sonata), and Olberic (Octopath Traveler) as well as incidental work in a panorama of other high-profile games, including Spider-Man, DMC5, Soulcalibur 6, Batman: Arkham Knight, Middle-Earth: Shadow of Mordor, Sunset Overdrive, The Last of Us, and films like Inside Out and Monsters University.
Seitz's script-adapting credits include the English dubs of the animated feature films Summer Wars and Wolf Children, as well as series such as Aggretsuko, Anohana, Your Lie in April, Romeo X Juliet, Garo, The Future Diary, Deadman Wonderland, Hellsing Ultimate, and Space Dandy.  Directing credits include a bevy of Japanese RPGs (e.g. Rune Factory; 4, Fire Emblem Awakening, Heroes, and Warriors; SMT: Devil Survivor 2 Record Breaker), freelance work on a variety of Blizzard Entertainment properties, and various dubbed anime series (e.g. Aggretsuko, Anohana, Your Lie in April, Monster, Girls Bravo).
About Ricco Fajardo
A California native, Ricco Fajardo likes to do it all – sing, act, dance, circus arts, gymnastics, writing, composing, parkour, improv – if it's physical, creative and/or performance-based, odds are he is into it. With his BA from the University of California Irvine and MFA from Southern Methodist University, Ricco has trained extensively in classical text and musical theatre. He has had the honor to perform at such theatrical venues as the Dallas Theatre Center, The Guthrie, and American Players Theatre. A self-proclaimed video game and anime nerd, Ricco is delighted to voice characters at Funimation and OkraTron5000.
---
Anime Expo 2019  will run from July 4 through July 7 at the Los Angeles Convention Center, with Pre-Show Night on July 3, 2019.
For more information about attending AX, check out our How to Attend guide.
Download our mobile app to stay up-to-date on announcements!