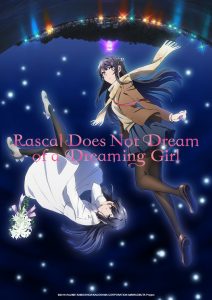 We're excited to host the U.S. premiere of the upcoming feature-length film Rascal Does Not Dream of a Dreaming Girl at Anime Expo 2019, presented by Aniplex!
Event Details
Date: Sunday, July 7
Time: 1:30 PM – 3:30 PM
Room: Live Programming 5 / 404AB
For information about lining up and room entry, please see the Program Room Policies. Subject to change. Please check the AX website and social media for updates.
Trailer
Synopsis:
In Fujiwara, where the skies are bright and the seas glisten, Sakuta Azusagawa is in his second year of high school. His blissful days with his girlfriend and upperclassman, Mai Sakurajima, are interrupted with the appearance of his first crush, Shoko Makinohara. For reasons unknown, he encounters two Shokos: one in middle school and another who has become an adult.
As Sakuta finds himself helplessly living with Shoko, the adult Shoko leads him around by the nose, causing a huge rift in his relationship with Mai.
In the midst of all this, he discovers that the middle school Shoko is suffering from a grave illness and his scar begins to throb…
---
Anime Expo 2019  will run from July 4 through July 7 at the Los Angeles Convention Center, with Pre-Show Night on July 3, 2019.
For more information about attending AX, check out our How to Attend guide.
Download our mobile app to stay up-to-date on announcements!