Due to the venue capacity restrictions at The Novo and Regal Cinemas, the following events will require a ticket or wristband in order to attend. These tickets/wristbands are free for AX attendees and can be reserved in advance online.  Wristbands for the 4DX Anime Film Fest screenings must be picked up onsite at the Ticketing Booth in Gilbert Lindsay Plaza in front of West Hall before the event.
Tickets for Japanese Dream: AX Audition at The Novo can be presented at the event during admission via QR code on a mobile device or Print-at-Home ticket for any online purchases.  Additionally, tickets for all events at The Novo can be picked up onsite at the Ticketing Booth as long as tickets are still available for distribution.
Japanese Dream – AX Audition –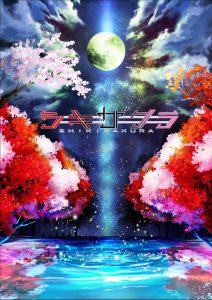 Come see the top 10 finalists of the voice cast auditions for an English-speaking role for the Japanese TV anime series "SHIKIZAKURA". "SHIKIZAKURA" is the first-ever TV animation series with 12 episodes created in the Tokai region of Central Japan. The animated series is scheduled to be on-air in 2020.
Judges include SUBLIMATION INC.'s animation and CGI director, Shinya Sugai, and director of audiography, Takumi Saito, Virtual YouTuber Miya Kimino, voice actor Joan Baker, and Bang Zoom President/Producer, Eric Sherman. Musician, actor, and TV personality, Ken Ayugai, will also join the event as a host.
When: Saturday, July 6 @ 6:00 PM
Where: The Novo
Online Ticket Reservations Start: June 18 at 6 PM PDT
Tickets can also be picked up onsite at the Ticketing Booth (subject to availability)
4DX Anime Film Fest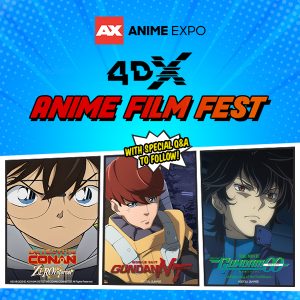 Attendees will be able to experience exclusive screenings of Detective Conan: Zero The Enforcer, Mobile Suit Gundam NT (Narrative) and Mobile Suit Gundam 00 the MOVIE – A Wakening of the Trailblazer- enhanced with immersive, multi-sensory 4DX motion and environmental effects!
Note: Please be sure to check the event ticketing pages for theater restrictions and 4DX safety guidelines.
Detective Conan: Zero The Enforcer

The highest grossing anime title of 2018 comes to 4DX! When Edge of Ocean, a newly built resort in Tokyo, is hit with a massive explosion, the famed detective Kogoro Mori is named as the prime suspect. As Conan searches for clues to clear Kogoro of the crime, he begins to unravel a sinister plot that is far bigger than what he could have imagined.
 When: Wednesday, July 3 @ 7:30 PM
Mobile Suit Gundam 00 the MOVIE – A Wakening of the Trailblazer –

The classic 2010 anime title appears in 4DX for the first time ever! The new government of the Earth Sphere Federation is carrying out a program of peaceful reconciliation and preparing for the appearance of the Innovators who will lead the human race into a new era. But the return of a derelict Jupiter exploration ship marks the beginning of an unprecedented crisis. What are the alien entities known as Extraterrestrial Living-metal Shape-shifters? What do they want? And will Setsuna F. Seiei and his fellow Gundam Meisters be able to answer these questions before humanity is wiped out?
When: Wednesday, July 3 @ 10:20 PM
Mobile Suit Gundam NT (Narrative) World Premiere

World premiere in 4DX! Following the screening there will be a very special Q&A with script writer, Harutoshi Fukui and the English voice cast! U.C. 0097, one year after the opening of Laplace's Box. In the final battle of the so-called "Laplace Incident," two psycho-frame mobile suits displayed power beyond human understanding. The white unicorn and the black lion were sealed away to remove this danger from people's consciousness. But the Unicorn Gundam 03, which disappeared two years earlier, has now returned to the Earth Sphere. Three childhood friends will be reunited in the pursuit of the golden phoenix named Phenex.
Followed by a Q&A panel with Harutoshi Fukui (Script Writer), Griffin Puatu (English Voice of Jona Basta) and Erika Ishii (English Voice of Michele Luio)
When: Thursday, July 4 @ 2:00 PM
Online Ticket Reservations Start: June 20 at 6 PM PDT
Note:  You must go to the Ticketing Booth to pick up your wristband for admission to the Regal Cinema L.A. Live in order to attend the screenings.

---
Anime Expo 2019 will run from July 4 through July 7 at the Los Angeles Convention Center, with Pre-Show Night on July 3, 2019.
For more information about attending AX, check out our How to Attend guide.
Download our mobile app to stay up-to-date on announcements!