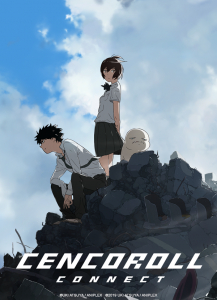 Aniplex is bringing the U.S. premiere of CENCOROLL CONNECT to Anime Expo 2019 for one night only! Come watch this double feature of Cencoroll (2009) and Cencoroll 2, with a special appearance from creator Atsuya Uki!
Event Details
Event Name: CENCOROLL CONNECT U.S. PREMIERE presented by Aniplex of America
Event Description: From the brilliant mind of master animator Atsuya Uki, CENCOROLL CONNECT comes to the U.S. for one night only at Anime Expo! 10 years since the short film dazzled audiences, the story continues with music by renowned composer ryo of supercell.
Date: Thursday, July 4
Time: 3:00 PM – 5:00 PM
Room: Video 1 / JW Marriott Diamond Ballroom
For information about lining up and room entry, please see the Program Room Policies.
---
Anime Expo 2019  will run from July 4 through July 7 at the Los Angeles Convention Center, with Pre-Show Night on July 3, 2019.
For more information about attending AX, check out our How to Attend guide.
Download our mobile app to stay up-to-date on announcements!