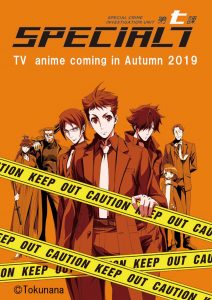 We're excited to welcome animation director Harume Kosaka to Anime Expo 2019! She is the director of Frontier Works' upcoming title TOKUNANA and will be participating in their panel.
Event Details
Panel Name: Frontier Works Industry Panel
Panel Description: First Time screening new episode of "Hyperdimension NEPTUNIA". Sneak peeks latest anime "TOKUNANA" and "The 8th son? Are you kidding me?" Special Guest: Harume Kosaka (Director "TOKUNANA").
Date: Saturday, July 6
Time: 7:30 PM – 8:30 PM
Room: Workshop 1/ 403B

Please note that this is an 18+ panel. All attendees will be required to have an 18+ wristband to be permitted entry.
For more information, please see the Program Room Policies.
Her appearance at Anime Expo 2019 is made possible by Frontier Works.
Trailer
Synopsis:
Tokyo Metropolitan Police Special Violent Crimes Unit Section 7
AKA Special-7.
The designation for a special group of seven experts in different fields (martial arts, swordsmanship, shooting, development of tool, information analysis, special planning, and finance) that deal with the most dangerous and unique crimes. Every one of them is amazingly skilled.
When a case is too much for the rest of the force to handle, Special-7 takes over. They're good at their job and above the law, but the other departments call them "A Gang of Rogues" because of their oddball personalities and trouble getting along with others.
About Harume Kosaka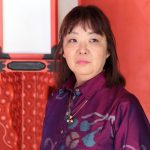 Harume Kosaka is a Japanese animation director, also known by the name of Yuki Hayashi. Ms. Kosaka began her career at TOEI DOUGA as a director for ep 45 of Sally the Witch then worked freelance in 2001. She also worked for Kingyo Chuuihou! (Goldfish Warning!), Sailor Moon, Baccano!, and PERSONA 5 the Animation as an animation director.
---
Anime Expo 2019  will run from July 4 through July 7 at the Los Angeles Convention Center, with Pre-Show Night on July 3, 2019.
For more information about attending AX, check out our How to Attend guide.
Download our mobile app to stay up-to-date on announcements!