We're excited to welcome Pop Team Epic Sound Producer Gin (BUSTED ROSE) to AX 2019!
Event Details:
Panel Name: KING RECORDS Presents: "POP TEAM EPIC" featuring GIN(BUSTED ROSE)
Panel Description: Interested in how Anime Music is produced? Meet special guest GIN(BUSTED ROSE) the "POP TEAM EPIC" Sound Producer to learn crazy secrets about the creation of music!! Dive in the creative process of the dope sounds and you can be the first to know exclusive behind the scenes secrets. We will have special raffle prizes for the attendees. *Only a limited number available.
Date: Friday, July 5
Time: 7:30 PM – 8:30 PM
Room: Live Programming 5 / 404AB
For information about lining up and room entry, please see the Program Room Policies.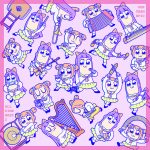 About GIN (Leader, BUSTED ROSE)
A singer-songwriter based in Japan. His main activities include composition, arrangement, and writing lyrics.
GIN has studied the piano and violin since the age of 4 and began to teach himself computer music at the age of 16. He started providing musical compositions, mainly to indie R&B and hip hop artists, while he was still in school.
He launched his full professional career as a lyricist/composer/arranger through anime. In 2018, he was in charge of all music production for the TV anime Pop Team Epic. Its theme song, "POP TEAM EPIC," set a record for the most downloads of a piece of anime music in the digital single rankings at the time and was the first to take first place in the Billboard Japan Hot Animation category two weeks in a row.
GIN currently produces music for many anime, games, idols and more.
---
Anime Expo 2019  will run from July 4 through July 7 at the Los Angeles Convention Center, with Pre-Show Night on July 3, 2019.
For more information about attending AX, check out our How to Attend guide.
Download our mobile app to stay up-to-date on announcements!