Get an inside look at the history and passion behind the legendary Street Fighter franchise in a special event featuring Executive Producer Yoshinori Ono. The panel will feature an inside look at Ono-san's history with Capcom as well as the art, lore, and world that drives the soul of every Street Fighter game. Ono-san will discuss how the series has evolved over the years and provide some behind-the-scenes looks inside the legendary franchise.
Ono-san will be joined on stage for the first time by the English voice actors for Ryu (Kyle Herbert), Karin (Lauren Landa), R. Mika (Bonnie Gordon), and Urien (Bill Rogers) to explore the work that goes into breathing life into each World Warrior.
Attendees will receive a Limited Edition Street Fighter V: Arcade Edition poster featuring art created exclusively for this event!*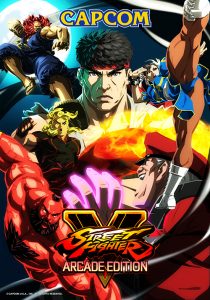 A few lucky attendees may walk away with special prizes, some of which are truly legendary and one-of-a-kind!
This will be a jam-packed panel with a lot of exciting content for casual and hardcore fans alike, so make sure to reserve your FREE ticket so you don't miss out!
Then, immediately after the panel enter the world of Street Fighter as contestants release the warrior within as they show off their cosplay, test their skills and battle it out during the Ultimate Cosplay Showdown sponsored by Capcom!
This is a new format featuring a fast-paced, multimedia cosplay competition like no other. Show off your skills and cosplay any character from Street Fighter V: Arcade Edition on the main stage to compete for thousands of dollars in cash prizes!
For more information and to sign up go to www.streetfightercosplay.com
Inside the World of Street Fighter
When: Thursday, July 4 @ 2:30 PM
Where: The Novo
Due to venue capacity limitations, free tickets can be reserved online in advance for this event. Tickets can also be picked up onsite at the Ticketing Booth (subject to availability). Tickets must be presented with a valid AX badge to enter.
About Kyle Hebert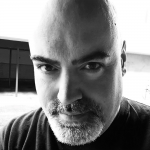 Kyle Hebert is a Los Angeles-based anime and video game voice actor whose credits include Wreck-It Ralph/Street Fighter (Ryu), Naruto (Kiba), Bleach (Aizen, Ganju), Jojo's Bizarre Adventure (Kakyoin), League of Legends (Ezreal, Jarvan, and Graves) and Gurren Lagann (Kamina). He is best known as the Narrator and Teen Gohan from the Funimation dub of Dragonball Z, and is currently heard on Dragonball Super (Gohan). Other fan faves include Blue Exorcist (Bon Suguro), Fire Emblem Awakening (Frederick, Validar), Fullmetal Alchemist (Vato Falman), Tales of Symphonia (Richter Abend) and Star Ocean (Dias, Arumat, Crow). Kyle can also be heard in numerous popular shows and games, such as Pokemon (Professor Oak in "Origins"), Digimon (Ballistamon and Dorulumon in "Fusion"), Sonic (Big the Cat in "Team Sonic Racing"), Final Fantasy (Nimbus in "Type-0"), World of Warcraft (Algalon the Observer in "Lich King", Skylanders, Devil May Cry, Dynasty Warriors, Soul Calibur and Resident Evil. He is also the promo voice of filmmaker, Kevin Smith's Smodcast podcasts. For more info, visit www.kylehebert.com.
About Lauren Landa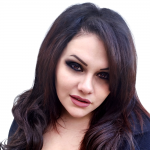 In the world behind the mic, Lauren Landa is most known for roles such as the ninja beauty, Kasumi in Dead or Alive 5; the sexy Litchi Faye Ling in the popular fighting games BlazBlue: the badass Kyoko Sakura in Puella Magi Madoka Magica; the enthusiastic Yan Leixia in Soul Calibur V; the deadly Little Queen in Tales of Graces; the valley girl racer in pink, Boiboi, in REDLINE; the adorable zombie Squigly in Skullgirls; kind-hearted Leia in Tales of Xillia; the quiet Annie Leonhardt in the hit anime series Attack on Titan, One in "DrakenGard 3", Nora in "Noragami", Female Robin "Fire Emblem" and "Super Smash Brothers" Sailor Neptune in the VIZ Media's Sailor Moon, Merlin in "The Seven Deadly Sins", Karin Kanzuki in Street Fighter V and many more!
About Bonnie Gordon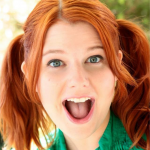 Although recently seen in many screen projects and web series, Bonnie is most recognized for her time on ABC's inventively fun fantasy/reality show, The Quest, the Star Trek Geek & Sundry show "Shield of Tomorrow", or the fun cyberpunk superhero show, "Callisto 6." If her face doesn't seem familiar to you, perhaps her voice will… From video games to anime, some voiceover credits include Street Fighter V (R. Mika); Mega Man 11 (Bounce Man); Fire Emblem: Echoes (Silque and the vocalist for the end credits song); recurring characters on Cartoon Network's Mighty Magiswords; Citizens of Space; Battlestar Galactica: Deadlock; Ikki Tousen; Akiba's Trip; Guided Fate Paradox; Demon Gaze; and more to come! She currently tours all over the world performing at comic cons with her nerd parody band – The Library Bards. Her future plans include living off of cheese plates and world domination.
You can find her on Twitter and IG at @BonnieBellG Library Bards – @librarybards
About Bill Rogers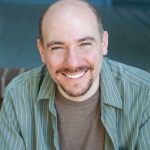 Since his debut in 2001, Bill has been providing voices to some of your favorite characters in some of your favorite shows. He is best known for his roles in "Pokemon" (Brock, Ghetsis and over 50 creatures), "HunterXHunter" (Majitani, Meleoron and Monta), "Gravitation" (Touma Seguchi), "Genshiken" (Tanaka Souichiro) and "Sword Art Online: Ordinal Scale" (Taisaneko). Other anime Bill has voiced include "Eureka Seven: Hi Evolution", "One Punch Man", "Mob Psycho 100", "Cells At Work", "Haikara", "Little Witch Academia", "Mobile Suit Gundam: Iron Blooded Orphans", "Godzilla: Monster Planet", "Jojo's Bizarre Adventure", "Boogiepop Phantom", "The Third", "Shingu", "His and Her Circumstances", "KO Beast", "Assemble Insert", "Magical Witch Punie-Chan" and "Queen's Blade" to name a few.
Video gamers will recognize Bill from his work in "Street Fighter 5" (Urien), "Legend of Zelda: Breath of the Wild" (King of Hyrule), "Super Smash Bros. Brawl" (Lucario) and "Mr. Love: Queen's Choice" (Lucien). He can also be heard in "SMITE", "Paladins", "God Wars", "Detective Pikachu", "Dark Rose Valkyrie", "Dragon Star Varnir", "Demon Gaze 1 & 2", "Mobius Final Fantasy", "The Lost Child", "Knee Deep", "Dungeon Hunter 4 & 5", "m&m Adventure" and many others.
You can follow Bill's adventures on Facebook and @billsvoice on Twitter.
---
Anime Expo 2019  will run from July 4 through July 7 at the Los Angeles Convention Center, with Pre-Show Night on July 3, 2019.
For more information about attending AX, check out our How to Attend guide.
Download our mobile app to stay up-to-date on announcements!