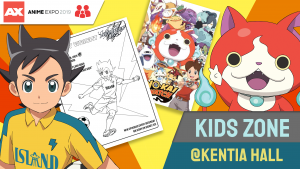 You're never too young to be an anime fan! For some of our younger attendees and their parents, we've put together a fun selection of kid-oriented activities.
In addition, we've designated Day 4 (July 7) as our Family Day and will be offering screenings that families can enjoy together in a safe and positive environment!
For information about lining up and room entry, please see the Program Room Policies.
Kids Zone
For parents of children ages 3 through 8, we invite you to stop by the Kids Zone in The Annex at Kentia Hall! Our staff will have plenty of activities to entertain your child – from coloring pages, activity sheets provided by Level-5. YO-KAI WATCH posters will also be available to all who visit the Kids Zone, while supplies last.
In addition, we're partnering with BubblePOP to bring unique and memorable bubble-themed activities for both children and adults! BubblePOP injects imagination and science into something as classic as the bubble to create fun memories for kids and the young at heart!  We will have activities like phantom bubbles (where you can make and hold your own smoke filled bubble), bubble force (where you can make HUGE life size bubbles), rocket bubbles (where you can challenge yourself to the best bubble tricks), and even take a photo inside a HUGE bubble!
*Please note that parents cannot leave their children at the Kids Zone, as it is not a daycare service.
Family Day- Day 4-July 7:
INAZUMA ELVEN AREA 1 to 5

Video 3 / 402AB @ 9:30 AM – 12:00 PM

Snack World (Ep 1-3)

Video 3 / 402AB @ 12:00 PM – 1:00 PM

Corps Dance Crew Party

AX Dance / Concourse Hall) @ 12:30 PM – 1:30 PM

Yo-Kai Watch Season 3 (Ep 1-3)

Video 3 / 402AB @ 1:00 PM – 3:30 PM
---
Anime Expo 2019  will run from July 4 through July 7 at the Los Angeles Convention Center, with Pre-Show Night on July 3, 2019.
For more information about attending AX, check out our How to Attend guide.
Download our mobile app to stay up-to-date on announcements!