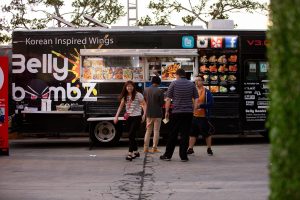 For five exhilarating days each year (including Day 0), Anime Expo  brings together people from more than 70+ countries, each with a deep-rooted passion for all things Japanese pop-culture.  There is no better way to learn about a culture or make new friends than through sharing a meal. AX knows this too and that is why we are beyond excited to bring nearly 40 of the top Los Angeles area food trucks to this year's event, offering just about everything a gourmand's tastes could dream of to eat.
With more than 110,000 expected attendees, fans will be grateful to have so many delicious food options to help recharge after a full-day exploring the more than 900 hours of anime-themed programming and assorted AX events and activities.
Anime Expo Eats will be located at: Directly across from the Los Angeles Convention Center's South Hall – 1318 S. Figueroa St., Los Angeles, CA 90015 and is open to the general public.
We got the food trucks!
American Style Cuisine:
Auntie Anne's Pretzels and More
Canvas Food Trucks
Fries N More
SlaminSliders
Dua Mani Pizza
Vivace
Wafl
Smokehouse
Wise BBQ
Love Bird Fried Chicken
Asian Cuisine:
8 E 8 Thai Street Food
Achara
Belly Bombz
Boba Truck Café
Goshen Cuisine
Mandoline Grill
Steamy Buns
Takuma's Burgers
Tokyo Doggie
White Rabbit
Caribbean & Creole Cuisine:
Caribe Fusion
Occasion Food Truck
Fusion Cuisine:
Manna From Heaven
Son Of a Bun Truck
Swami's Sandwich
Mediterranean-Themed Cuisine:
Mexican Fusion Cuisine:
Seafood:
Sweet Tooth Options:
Blast
Fluff Ice
LA Donut
Mambo Juice
My Delight
The Boba Truck
Please note that each individual food truck sets their own pricing. Updates for all things Anime Expo and any additional food trucks who sign up will be updated on our website.
Bring your appetites. See you July 3!
---
Anime Expo 2019  will run from July 4 through July 7 at the Los Angeles Convention Center, with Pre-Show Night on July 3, 2019.
For more information about attending AX, check out our How to Attend guide.
Download our mobile app to stay up-to-date on announcements!