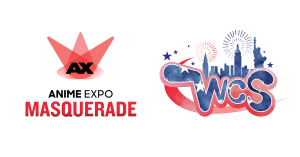 With just a week until AX 2019, we have some updates about one of our biggest, most beloved events: the AX 2019 Masquerade & World Cosplay Summit USA Finals!
Livestream
We'll be livestreaming the AX Masquerade and WCS USA Finals! We want to share the passion of cosplay around the world through their our channels on Youtube and Twitch! Catch the AX Masquerade and World Cosplay Summit USA Finals LIVE on Saturday, July 6 @ 8:00 PM!
You can still experience the show LIVE in Main Events!
AX Masquerade & World Cosplay Summit USA Finals
Saturday, July 6 @ 8 PM
Where:  LACC / Main Events (Hall B)
Pricing:  $5 – 15
MCs Zach and Jim Return
Masters of Ceremonies Zach and Jim will return to bring their combined energy as hosts for AX Masquerade and the World Cosplay Summit USA Finals!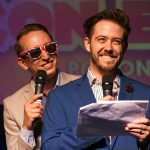 Jim and Zach are (were?) cosplayers originating from the Midwest convention scene. Known also by their stage personas, Voltz and Stripper Vash (don't ask), they began entering masquerades in 2005 and took the scene by storm with a focus on comedic skits, usually involving well-known characters and placing them in new and odd situations. You can check out their work on YouTube, or not…I'm a bio, not a cop. Eventually they expanded out into comedic improv panels and performances, totally unnecessary panels, and hosting masquerades. The duo love putting on an entertaining show with a focus on making sure the audience has a great time; which usually tops off their egos for a few months. They are old and terrible at social media but continue to be dedicated fans of anime and gamers who really enjoy lemonade.
The Corps Dance Crew Returns
The Corps Dance Crew will return as featured performers following the AX Masquerade and World Cosplay Summit USA Finals! Come watch this group of phenomenally talented dancers!
They will also be doing a special performance of their show Across the Multiverse on Friday, July 5 @ 12:30 PM and an all-ages Dance Workshop on Sunday, July 7 @ 1:30 PM, both in AX Dance!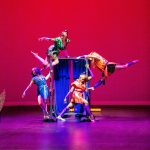 Founded in 2013, directors Kayla Mallari and Sonali Samarasena created a professional dance crew dedicated to all things anime and comics. Coupling popular music with a variety of dance styles, theatrical elements, and intricate cosplays, they share their love of nerd culture in a unique and exciting way! The Corps has performed and held panels and workshops at numerous conventions such as San Diego Comic Con, Stan Lee's LA Comic Con, Anime Los Angeles, Anime California, Anime Impulse, and others. The Corps makes their return to Anime Expo with all new productions! For the love of the art, and the nerd in our hearts! Sourumeito!
Update to AX Masquerade/WCS USA Finals Judges
Anime Expo is excited to welcome to Mr. Takahiro Mori, World Cosplay Summit Japan Producer and Chief Operating Officer as a guest performance Judge to our renowned panel of judges for AX 2019.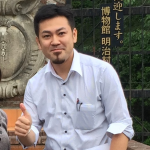 Mr. Mori began working with the World Cosplay Summit Inc. in 2012 and is currently the Producer for all WCS events including the Grand Championship in Nagoya, Japan. He is a member of their Board of Directors and supports the World Cosplay Summit and its partner organizations around the world as the Chief Operating Officer.
Due to unforeseen circumstances The Samurider will no longer be able to attend Anime Expo 2019. We wish her the best and hope to see her at a future AX!
Additional Prizing for Masquerade & World Cosplay Summit USA
In addition to receiving our coveted trophy awards and cash prizes, winners will also win prize packages including Prizes from Pollards Sew Creative, gift certificates to Arda Wigs and kimono packages from Tangerine Mountain Imports and Designs! For years Pollards Sew Creative have graciously donated incredible prizing of sewing machines and accessories and we are grateful to have them return for 2019. Arda Wigs returns this year and will be generously donating multiple gift certificates to our AX Masquerade Winners including a $300 gift certificate for Best In Show. Tangerine Mountain joins AX Masquerade for the first time this year and will be curating gift packages of selected vintage Japanese Kimono and Textiles for each winning category.
Additionally, World Cosplay Summit USA Finals returns for it's 3rd year at Anime Expo 2019!
To celebrate, this year we will be selecting WCS USA Representatives for 2019 and 2020. In addition to their prize trip to Japan to represent the United States as Team USA and 4 day badges to Anime Expo 2020, each team selected will receive $300 certificates donated by our friends at Arda Wigs! All teams participating will also receive a gift certificate to Arda Wigs and kimono textile gift packages from Tangerine Mountain Imports and Designs.
We will also be awarding an amazing prize package to to our Runner Up Team including:
World Cosplay Summit USA Alumni Retrospective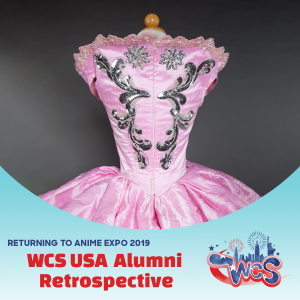 Anime Expo is proud to announce the return of the World Cosplay Summit Team USA Alumni Retrospective!
Located in the Entertainment Hall, this exhibit features costumes created by WCS Team USA Alumni from 2005 to 2018 for the annual summit in Nagoya, Japan.
Each hand-crafted costume has been graciously loaned by Alumni all over the United States. Several of our Alumni will be at the exhibit to answer questions about the World Cosplay Summit, their experiences, and costumes. This year, exhibited costumes will be accented with beautiful set pieces and props graciously donated to the retrospective from Make Light Studios, a Southern California Photo Studio founded by cosplayers.
Make plans to see these inspiring costumes in person as several will be retired after this year.
You can also meet our Cosplay Judges in the Retrospective on Friday July 5th from 7:00 – 7:30 PM!
Don't forget to Join us for the 2019 AX Masquerade and World Cosplay Summit USA Finals on Saturday July 6 @ 8-11PM in LACC / Main Events (Hall B)!
---
Anime Expo 2019  will run from July 4 through July 7 at the Los Angeles Convention Center, with Pre-Show Night on July 3, 2019.
For more information about attending AX, check out our How to Attend guide.
Download our mobile app to stay up-to-date on announcements!