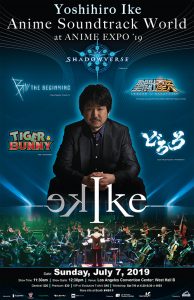 We're honored to be able to host renowned musician and composer Yoshihiro Ike's international debut performance in the immersive, symphony legacy of Yoshihiro Ike: Anime Soundtrack World sponsored by Studio Kitchen, which will take place on Sunday, July 7.
Witness the international debut performance of one of Japan's most prolific music composers in the industry, Yoshihiro Ike, only at Anime Expo 2019! Experience the musical masterpieces of anime soundtracks from Tiger & Bunny, Saint Seiya, B: The Beginning, Dororo, and Rage of Bahamut: Genesis. Also, the greatest collection of game soundtracks from Shadowverse. Immerse yourself in memorable moments from these titles as Ike takes the audience on a live symphonic journey performed with over 50 of the best musicians from Nashville and Los Angeles, along with a special performance by a koto harpist and a shakuhachi flutist from Japan. Studio Kitchen and Production I.G. USA are proud to present a one-of-a-kind music event you don't want to miss!
Yoshihiro Ike is one of the most recognized music composers in Japan, having worked on more than 100 titles in the last 20 years, with Blood: The Last Vampire, as his debut anime title, which was nominated for the 2000 UK Music Awards, and subsequently awarded the top prize at the Japan Media Arts Festival in 2000. Ike-san started his music career in 1987 as a member of AIKE BAND and later worked in Los Angeles as a bassist for David T. Walker, after which he returned to Japan and started composing music for not only anime but live-action and game titles, such as Aibou, Sonic X, SD Gundam Force, Ergo Proxy, Tiger & Bunny, Saint Seiya, Shadowverse, which in 2018 became the highest-ranking on iTunes, surpassing Shallow by Lady Gaga.
Ike has also composed the soundtrack for a number of television dramas including Aibou, an award-winning, long-running television series that began broadcast in 2002 and is still being produced. There are also two made for theater movies released based on the same character.
Event Details
Date: Sunday, July 7 @ 12:30 PM (Doors Open 11:30)
Where: Main Events / West Hall B
Tickets On Sale:

Premier Fan: Tuesday, May 21, 2019, at 6 PM PDT
General Attendee: Thursday, May 23, 2019, at 6 PM PDT
Ticket Pricing:
VIP with Exclusive T-Shirt: $45
Premium: $30
General: $20
---
Anime Expo 2019  will run from July 4 through July 7 at the Los Angeles Convention Center, with Pre-Show Night on July 3, 2019.
For more information about attending AX, check out our How to Attend guide.
Download our mobile app to stay up-to-date on announcements!