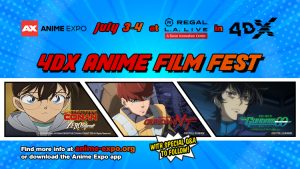 We're thrilled to be able to present the first ever 4DX Anime Film Fest at AX 2019, sponsored by Sunrise.
The 4DX Anime Film Fest takes place at Regal LA Live and features exclusive screenings of  Detective Conan: Zero The Enforcer, Mobile Suit Gundam NT (Narrative) and Mobile Suit Gundam 00 the MOVIE – A Wakening of the Trailblazer- all enhanced with immersive, multi-sensory 4DX motion and environmental effects to create a truly one-of-a-kind experience and bring some of the most beloved titles to life.
In addition, the Mobile Suit Gundam NT (Narrative) screening will be followed by an exclusive 30-minute Q&A panel with screenwriter and cast to celebrate the 40th anniversary of the series. Panelists will include scriptwriter Harutoshi Fukui and voice actors Griffin Puatu (English Voice of Jona Basta) and Erika Ishii (English Voice of Michele Luio).
---
Anime Expo 2019  will run from July 4 through July 7 at the Los Angeles Convention Center, with Pre-Show Night on July 3, 2019.
For more information about attending AX, check out our How to Attend guide.
Download our mobile app to stay up-to-date on announcements!