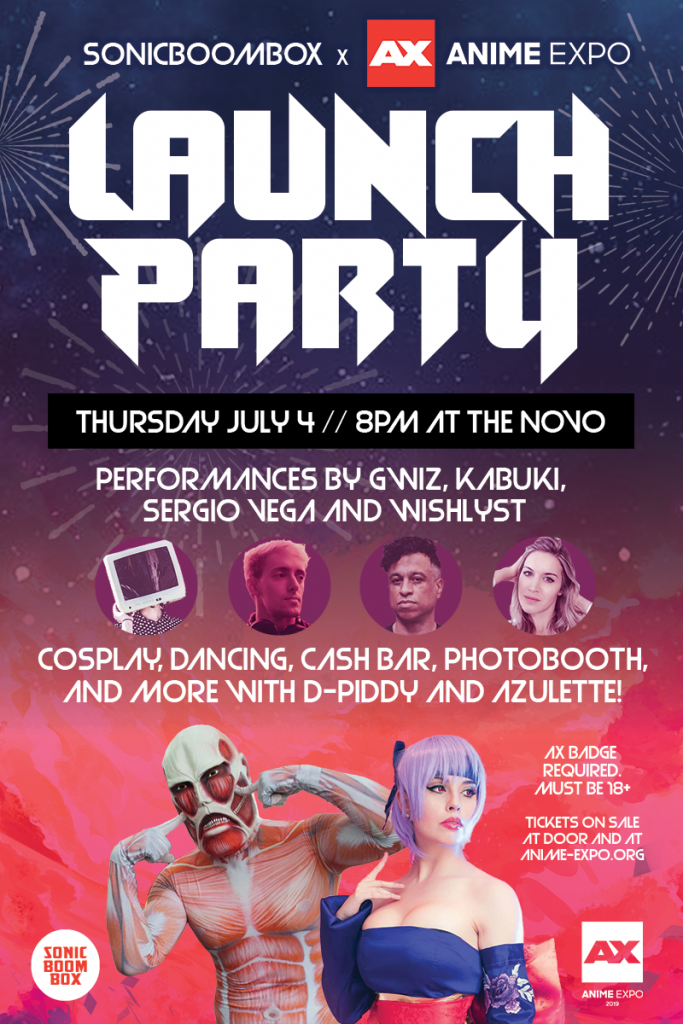 Good news!  The Sonicboombox x Anime Expo Launch Party on July 4 is now a FREE ticketed event! We are super excited to open the doors to all Anime Expo badge holders at 8:00 PM at The Novo and welcome you to an unforgettable night!
Need a ticket? Reserve your free ticket now!
We also have limited quantities of VIP status tickets available for sale.
Perks include:
1 drink ticket
1 exclusive AX light-up ring
AX Merch Package (Pick from AX hat or tank top, while supplies last, and get a voucher for a 2019 poster at the AX Merch Store!)
Already bought a ticket? Hold onto that ticket as you have been upgraded to VIP status!
The AX Launch Party will feature live DJs, dancing, cosplay, photobooth, & much more, all hosted by D-Piddy & Azulette! Our AX 2019 Cosplay Senpai and Digital Influencers will be popping in throughout the event!
Event Details:
When: Thursday, July 4 @ 8:00 PM
Where: The Novo
Hosts: D-Piddy & Azulette Cosplay
Artist Line-up: GWIZ, Wishlyst, Kabuki, & Sergio Vega of Deftones/Quicksand
To attend Sonicboombox x Anime Expo Launch Party, AX attendees will need to present both a concert ticket and a valid AX attendee badge valid for any day. 18+ age restriction; must have a valid Government-issued photo ID with date of birth at the door for entry.  
---
Anime Expo 2019  will run from July 4 through July 7 at the Los Angeles Convention Center, with Pre-Show Night on July 3, 2019.
For more information about attending AX, check out our How to Attend guide.
Download our mobile app to stay up-to-date on announcements!