We're excited to be able to host a celebration of the legendary Street Fighter franchise, sponsored by Capcom!
Renowned Executive Producer Yoshinori Ono will kick off the event with a special behind-the-scenes panel that will provide an inside look at the history, evolution, and world of Street Fighter. He'll be joined for the first time by the English voice cast, including the voices of Ryu (Kyle Hebert), Karin (Lauren Landa), R. Mika (Bonnie Gordon), and Urien (Bill Rogers).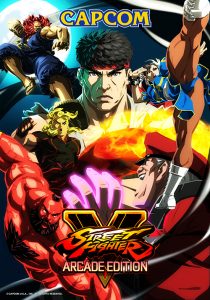 In addition, Street Fighter commentators Sajam and Vicious will be bringing their electric energy to the event! From casual players to hardcore fans, don't miss out on this spectacular occasion with some of the most influential names behind the games! Attendees will also receive a Limited Edition Street Fighter V: Arcade Edition poster featuring art created exclusively for this event!*
Afterwards, join us as we enter the world of Street Fighter in the fast-paced Ultimate Cosplay Showdown sponsored by Capcom! Watch contestants release the warrior within in this unique, compelling cosplay competition as they battle it out to be champion!
This is a new format featuring a fast-paced, multimedia cosplay competition like no other. Show off your skills and cosplay any character from Street Fighter V: Arcade Edition on the main stage to compete for thousands of dollars in cash prizes!
For more information and to sign up go to www.streetfightercosplay.com
Don't miss out on this amazing celebration, reserve your FREE ticket now!
Inside the World of Street Fighter
When: Thursday, July 4 @ 2:30 PM
Where: The Novo
Due to venue capacity limitations, free tickets can be reserved online in advance for this event. Tickets can also be picked up onsite at the Ticketing Booth (subject to availability). Tickets must be presented with a valid AX badge to enter.
About Sajam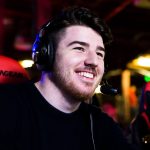 Sajam is a fighting game commentator who's known for touching his hair too much. When he's not busy commentating on the Capcom Pro Tour, you can find him snuggled in bed watching anime and playing way too much Monster Hunter: World.
About Vicious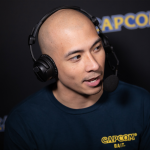 As a lifetime Street Fighter fan, Jeremy "Vicious" Lopez has turned his passion for the game into a career, currently hosting and doing commentary for the Street Fighter League as well as other Capcom Pro Tour events. Vicious has also been known to step in for Sagat as his stunt double from time-to-time as they are near identical. Based out in Southern California, Vicious is an active streamer, commentator, and overall entertainer who always brings the energy no matter what the event.
---
Anime Expo 2019  will run from July 4 through July 7 at the Los Angeles Convention Center, with Pre-Show Night on July 3, 2019.
For more information about attending AX, check out our How to Attend guide.
Download our mobile app to stay up-to-date on announcements!