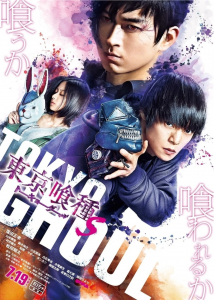 We're excited to host the U.S. premiere of Tokyo Ghoul S at Anime Expo 2019, presented by Funimation! This is the second live-action film based on Tokyo Ghoul by Sui Ishida, and the first movie had its world premiere at AX 2017!
Tokyo Ghoul S
Event Details
Date: Saturday, July 6
Time: 9:30 PM – 12:00 AM
Room: Live Programming 2 / JW Marriott Platinum Ballroom
Please see our Program Room Policies for more information.
Trailer
Synopsis
Now a member of Antiku, Ken Kaneki grows closer to the ghouls around him. Determined to protect his new home against anti-ghoul forces, he trains his powers in secret. But when the infamous gourmet, Shu Tsukiyama, wishes to savor some half-ghoul flavor, Kaneki's training is put to the test.
---
Anime Expo 2019  will run from July 4 through July 7 at the Los Angeles Convention Center, with Pre-Show Night on July 3, 2019.
For more information about attending AX, check out our How to Attend guide.
Download our mobile app to stay up-to-date on announcements!