Our year-round Artist Collaboration Project is dedicated to showcasing members of the Anime Expo artist community throughout the year, and we're thrilled to debut our very first collaborative piece! The Autumn 2019 piece features artwork created by Nemupan!
As the weather gets colder and the leaves begin to change colors, autumn is the time to start bundling up and spending time with friends! Nemupan's art shows our adorable mascots Kisegi, Ai, and Mahoko on a cozy picnic drawing date.
See the full piece below, and make sure to check it out on our Twitter, Facebook, and Instagram!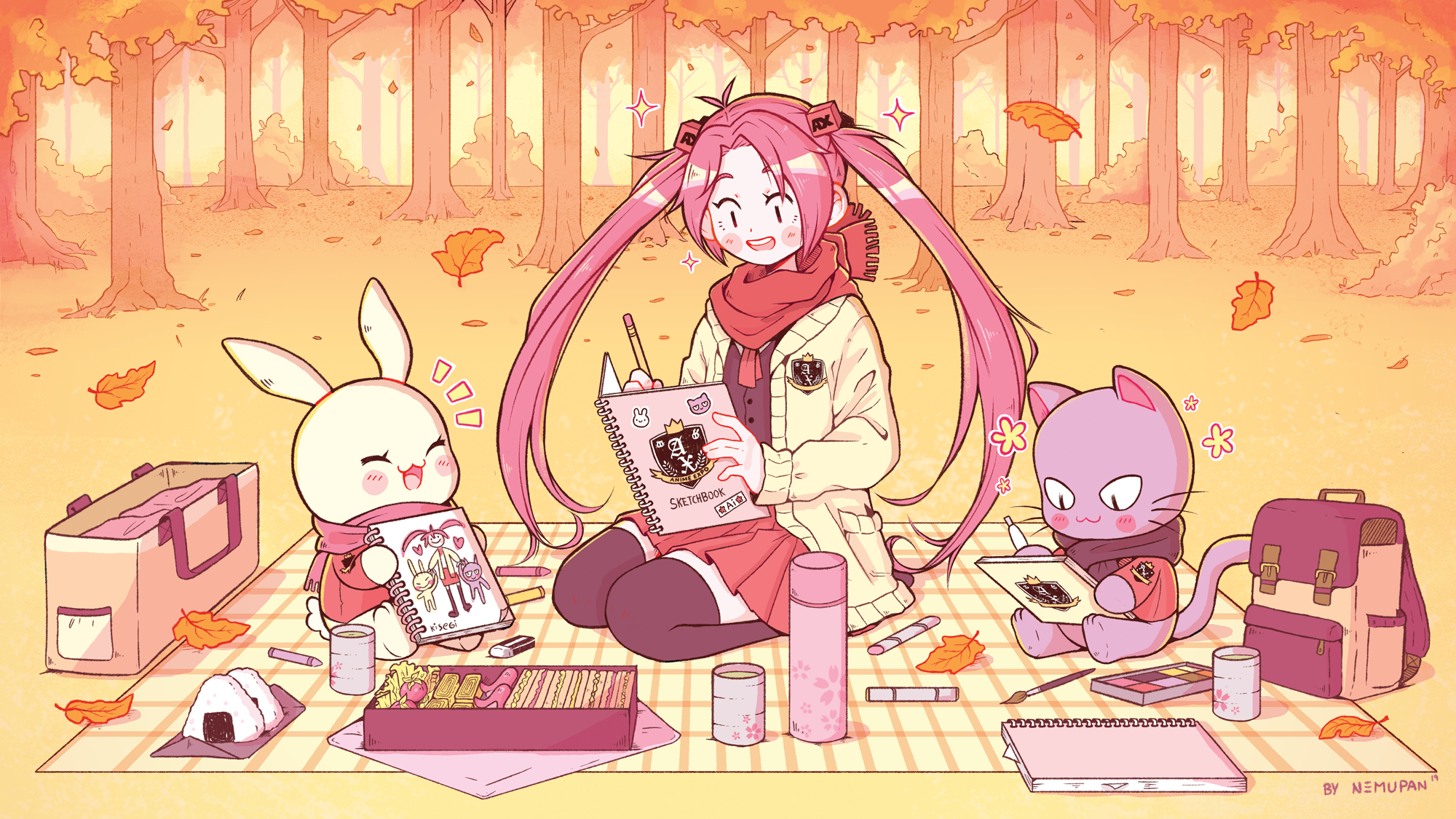 Interview with the Artist
How did you get into anime?
When I was young, I used to watch these crazy Japanese cartoons on TV but I never knew what they were called. Later my eldest cousin taught me they werecalled anime and gifted me my very first manga, Volume 1 of Cardcaptor Sakura. My 10-year old-mind was blown away — Sakura was not only on TV but in comics?! From then on, I became obsessed with anime, especially the magical girl genre.
Anime and manga used to be extremely hard to find in Chile back then, so every DVD, VHS, video game, and manga I could find became my treasure. I would read and watch them over and over again, to the point where pages of my comics would fall apart from how much I read them. Anime became this joy that sparked my love for art and animation, later becoming the main inspiration for my work for years to come.
When did you first attend Anime Expo?
I watched AX from afar, wishing I could go someday. In Chile, conventions are not as big or elaborate as the ones in the US, so it was kind of an impossible dream to one day attend a convention with so many things to do.
When I graduated from college and started working my first day job, I started saving up. Over the summer of 2017, one of my best friends went to the US to study art in Pasadena. Since I had saved up some money from my job, I really wanted to go and visit her. One day when we were planning what to do in the 2 weeks I was visiting, it occurred to me "Hey, what if, crazy idea, we go to AX?" and bought the tickets.
We were blown away. We had never attended such a big convention, we got to go to panels, meet artists we admired, amazing cosplayers, and I got to see my favorite idols at a concert. It was amazing. I really wanted to come back to AX, but this time, be part of the crazy experience.
When did you first participate in Artist Alley at AX? 
First time I participated was in 2018. AX was my 3rd convention over in the US. I thought it would be a similar experience to the previous two conventions I already attended. I was dead wrong. The 4 days went down in a blink. I swear I had never felt a convention go so fast. Everything was bigger, faster, crazier. I met an insane amount of people that followed my work, it was surreal, I never thought my art would reach people so far away from me. I felt like crying at the end, I was so grateful to be part of that. I made so many friends too, friends I hold very dear to my heart and never dreamed of having.
What do you love about Anime Expo?
I love that Anime Expo is this huge crazy adrenaline rush. From getting a table to attending, it's a very extreme experience. I love that it's the biggest artist alley that I've ever been to. Every time I had the chance to look around, I would find an artist I followed for the longest time or I would discover amazing artists I had never heard of. It's also really fun that the AX does not limit itself to the convention center. I love how suddenly the whole city is filled with anime fans, from Little Tokyo to the airport. It's shocking the impact Anime Expo has.
About Nemupan
Florencia Namur, better know as Nemupan, is an artist and animator based in Santiago, Chile. She has been working as an independent illustrator for about 4 years now, feeling extremely grateful of living her dream job. It has taken her to visit different countries and reach people she never would have dreamed of meeting. Her heart belongs to art, anime, video games, food, and the color pink. She also has 2 dogs. Allergic to both.
Find Nemupan in Artist Alley!
To learn more, visit http://nemupanart.daportfolio.com/
---
Anime Expo 2020 will run from July 2 through July 5 at the Los Angeles Convention Center.
For more information about attending AX, check out our How to Attend guide.