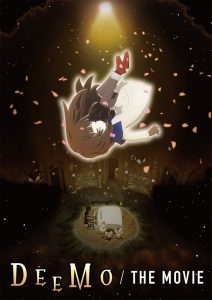 The grand winner has been selected for the DEEMO THE MOVIE – UTAHIME AUDITION! 14-year-old singer Hinano Takashima has been selected to perform the theme for theatrical animation film DEEMO THE MOVIE
The audition which began this January attracted over 1400 participants from across the globe, and six finalists were selected after three rounds. Five judges oversaw the final round online: Theme-song writer Yuki Kajiura, music producer Yasunori Mori, Pony Canyon producers Toshihide Nishinaka and Mitsuyasu Yanagita, and Anime Expo Senior Director Azusa Matsuda.
"Although it ended up being a rather unique audition, the basis lies in the 'song.' Since we were selecting someone that would have to make singing their livelihood, it was about finding the one that can display the charm of a beautiful music performance through the power of the 'song,'" said Kajiura.
Similarly, Mori stated "the deciding factor was the winner's vocal ability and future potential," applauding the potential of the grand winner.
"This audition was inspired by this Japanese anime theme song, and it was revolutionary that it opened the door for people all over the world to participate. I look forward to the film and to the future of this young diva" said Matsuda, summarizing this half-year audition with a comment while also recognizing its global significance.
Grand winner Takashima performed the three songs that were tasked during the qualifiers. "It's still dreamlike, I can't believe it. I'm feeling all fluffy. I accomplished the first step in my dream of becoming a singer that can reach the heart of audiences worldwide. I'd like to continue singing with all my heart so that people who listen would tell me 'I'm glad I chose Hinano Takashima!'" said Takashima.
The final round of auditions can be viewed on the DEEMO THE MOVIE official website. Congratulations to Hinano Takashima!
---
Check out the Schedule to see what's coming to Anime Expo Lite!