Hot Topic celebrates the art and creators of anime every day with Anime & Beyond! In this post, check out some of our picks for anime shirts and more.
Plus, join the Discord community for giveaways, AMAs, karaoke, and more!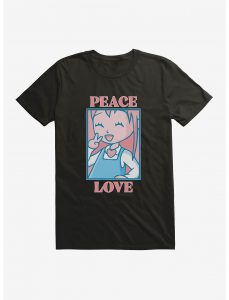 Peace and Love T-shirt $23.90
May is Asian American and Pacific Islander (AAPI) Heritage Month. All net proceeds from the purchase of this tee celebrating AAPI Heritage Month will go directly to Asian Americans Advancing Justice, now through the end of May.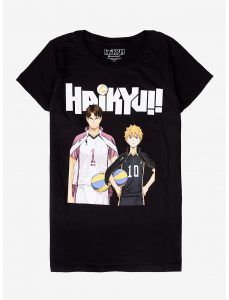 Haikyu!! Hinata & Ushijima Girls T-Shirt $22.90
Rep the rivalry between Karasuno and Shiratorizawa with this black Haikyu!! tee. Printed with both Hinata and Ushijima in their team uniforms under the show's title in white.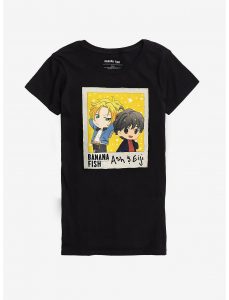 Banana Fish Ash & Eiji Chibi Photo Girls T-Shirt $24.90 – Hot Topic Exclusive
Wear cutie versions of your favorite investigators with this Banana Fish tee! Printed with a photo-style design of chibi Ash and Eiji with stars in the background and their names below. Only available at Hot Topic!
Hunter X Hunter Pose T-Shirt $22.90
Add more anime apparel to your tee collection with this one from Hunter x Hunter. Printed with Gon, Killua, Kurapika, and Leorio and the show's title on the front.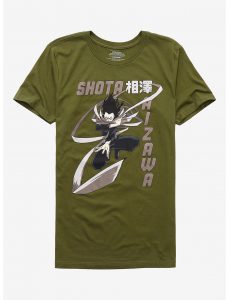 My Hero Academia Shota Aizawa T-Shirt $22.90
Add more anime apparel to your tee collection with this one from My Hero Academia. Printed with Shota Aizawa, aka the Erasure Hero, mid-fight with his name above and down the side.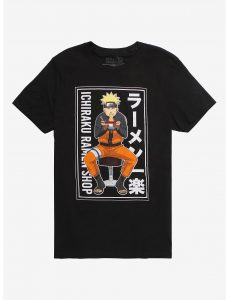 Naruto Shippuden Iciraku Ramen T-Shirt $22.90
What does Naruto enjoy more than a steaming bowl of ramen? Nothing! This black tee from Naruto Shippuden features the ninja slurping noodles with the name of the Ichiraku Ramen Shop down the sides.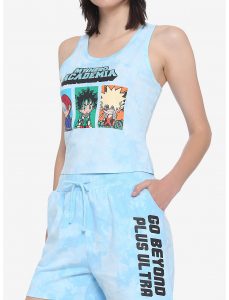 My Hero Academia Chibi Trio Tie-Dye Girls Lounge Set $44.90
Stay in and lounge around for a My Hero Academia marathon. This set includes a blue tie-dye tank top with chibi versions of Todoroki, Deku, and Bakugo. The blue tie-dye lounge shorts feature "Go Beyond Plus Ultra" on the left leg, hip pockets, and drawstring elasticated waistband.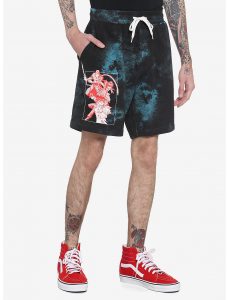 Yu Yu Hakusho: Ghost Files Group Wash Volley Shorts $32.90
Stay comfy while investigating supernatural happenings with Yusuke, Kazuma, Kurama, and Hiei! These volley shorts from Yu Yu Hakusho: Ghost Files have a black and teal wash pattern with a red & white group image on the right leg. Drawstring elasticated waistband, hip pockets, and back pocket.