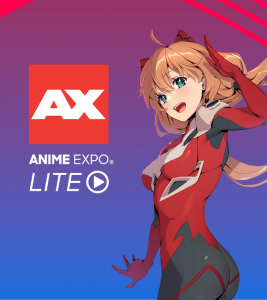 The two-day, livestream convention commences on Saturday, July 3rd and continues through July 4th.
Tickets to access this year's Anime Expo Lite programming are $5 each, with all proceeds benefiting the Hate is a Virus commUNITY Action Fund. After the stream ends on July 4th, ticketholders will be able to re-watch the content, as well as access additional programming on a VOD basis from July 5th -16th, 2021.
Hate Is A Virus programs include mental health support and developing effective, community-based solutions for safety, representation, solidarity-building. The organization works to mobilize AAPI to participate in local and national campaigns, creating safe spaces for dialogue and education, and provides actionable steps and funding in partnership with trusted community leaders and organizations
Registration Information:
Dates – July 3-4, 2021 / 12pm – 8pm (PDT)
Registration $5 (+ processing fees) – all proceeds to benefit the Hate Is a Virus commUNITY Action Fund
Anime Expo Lite 2021 marks the 30th Anniversary of the long-running annual convention. This year's programming will feature exclusive streamed content from industry partners such as Bushiroad, Bandai Namco Arts, Crunchyroll, Right Stuf Anime, VIZ Media, Sekai Project, Wayforward, and more soon to be announced! Additional content, programming details, and participating brands will be announced in the coming weeks.
Anime Expo Lite 2021 Programming will Include:
Panel discussions with industry leaders
Industry announcements
Live content
Exclusive content from Japan
Q&As
Community & educational segments
Community features
To receive Anime Expo Lite news & programming updates, be sure to sign up for our email newsletter.
For more information on Hate Is A Virus, please visit: https://hateisavirus.org/
Anime Expo is the biggest North American fan celebration for Asian and Japanese pop culture including anime, TV & film, fashion, video games, manga, dance, live concerts, collectibles, and exclusive convention merchandise, presented as an unforgettable experience for fans of all ages. For more information regarding Anime Expo please visit www.anime-expo.org.