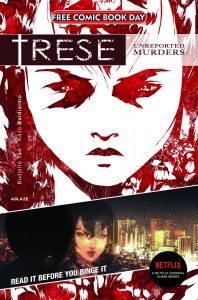 Join the creators of the new Netflix anime series, TRESE, at Anime Expo Lite 2021! A love letter to the traditions, heritage, and culture of the Philippines, TRESE follows detective Alexandra Trese as she confronts a criminal underworld composed of malevolent supernatural beings.  The series is set in Manila where the mythical creatures of Philippine folklore live in hiding amongst humans.
Hosted by ABLAZE publishing, which publishes the TRESE graphic novel series, the panel will include Trese creators Budjette Tan (Writer) & Kajo Baldisimo (Artist), and Jay Oliva, the Executive Producer, Director & Showrunner of Netflix's Trese.
Check it out starting July 5, 2021 at 12 PM PT!
About Budjette Tan (Trese Creator and Writer)
Budjette Tan is a Filipino writer best known for writing the horror/crime komiks series Trese, which he co-created with artist and longtime friend and creative colleague, KaJO Baldisimo. Trese won the Philippine National Book Award for Best Graphic Literature of the Year in 2009, 2011, 2012.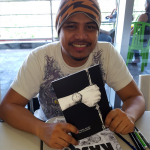 About KaJO Baldisimo (Trese Artist)
KaJO Baldisimo is a Filipino comic book artist best known for illustrating the horror/crime comic series Trese, co-creating it with writer Budjette Tan. He is also the penciller of the forty-first issue of the Star Wars: Legacy comic series, Legacy 41: Rogue's End. Trese won the Philippine National Book Award for Best Graphic Literature of the Year in 2009, 2011, 2012.
About Jay Oliva (TRESE Director and Showrunner)
Jay Oliva is an acclaimed American storyboard artist, film producer, and animated film director working at Lex and Otis animation studio. His extensive credits include the animated film, Batman: The Dark Knight Returns, Justice League: The Flashpoint Paradox, Justice League Dark, Batman: Bad Blood, and storyboard work for Zack Snyder's Man of Steel and Batman v Superman: Dawn of Justice.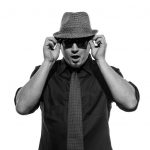 About Rich Young (ABLAZE – U.S. Publisher of Trese GN)
Ablaze co-founder and VP of Creative/Business Development Rich Young is a veteran comics industry professional who has worked for Dynamite Entertainment, Devils Due, and other publishers.
Megan Peters, Moderator (Editor & Senior Staff Writer, Comicbook.com)
---
Anime Expo Lite 2021 will stream via Tixr July 3-4, with additional content available via VOD July 5-16. All proceeds will benefit the commUNITY Action Fund by Hate Is A Virus.
Download our mobile app to stay up-to-date on announcements!