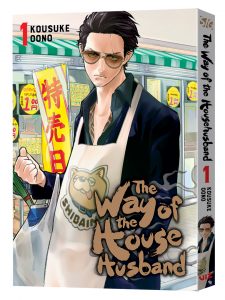 Join Anime Expo Lite 2021 for a chat and live drawing session with Kousuke Oono, creator of THE WAY OF THE HOUSEHUSBAND! Be sure to join live and stick around until the end of the panel for a chance to win Oono sensei's shikishi drawing*!
Schedule Info:
When: Sunday, July 4 @ 12:15 PM PDT (Channel 1)
Where: Tixr
Kousuke Oono began his professional manga career in 2016 in the manga magazine Monthly Comic @ Bunch with the one-shot "Legend of Music." Oono's follow-up series, The Way of the Househusband, is the creator's first serialization as well as his first English-language release. He is the proud owner of a dog and a cat.
*No purchase necessary to enter. 18+ & US residents only. See official rules for more info.
---
Anime Expo Lite 2021 will stream via Tixr July 3-4, with additional content available via VOD July 5-16. All proceeds will benefit the commUNITY Action Fund by Hate Is A Virus.
Download our mobile app to stay up-to-date on announcements!