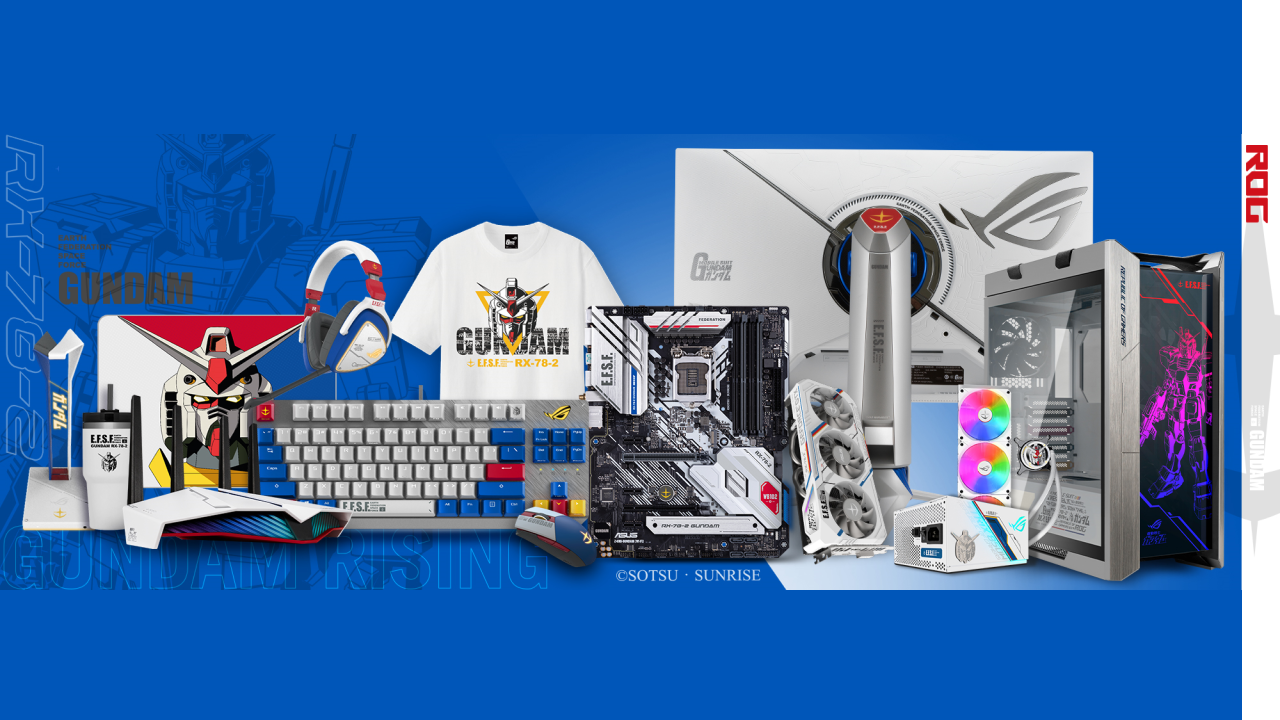 The GUNDAM universe meets PC gaming with the all new ASUS X GUNDAM collection. With PC components, gear and apparel inspired by the original RX-78-2 Gundam and the infamous MS-06S Char's Zaku II, these iconic designs will bring your PC into the Newtype realm. Assemble your own Mobile Suit PC from this extensive selection of ASUS ROG and TUF Gaming motherboards, graphics cards, gaming cases, all-in-one coolers, gaming monitors, peripherals, routers, apparel, and gear.
Check out the highlight video below for a deeper look into the collection:
Take to the skies with the RX-78-2 Gundam-inspired designs, which includes GUNDAM edition PC components such as the Z590 (WI-FI) motherboard, ROG STRIX GeForce RTXTM 3080 graphics card, ROG STRIX LC 360 RGB cooler, and ROG STRIX 850G power supply unit, all of which can be showcased in a ROG STRIX Helios case emblazoned with the iconic Gundam mech. Additional PC accessories and apparel decorated in the RX-78-2 color scheme include the GUNDAM edition of the RT-AX82U WiFi 6 router, ROG STRIX XG279Q gaming monitor, ROG STRIX Impact II gaming mouse, ROG Delta gaming headset, the ROG STRIX Scope TKL mechanical keyboard, the ROG Sheath mousepad, the ROG Throne Qi headphone stand, and an ASUS x GUNDAM t-shirt.
Siding with MS-06S Char's Zaku II? Step into the Principality of Zeon with the ZAKU II edition of the TUF Gaming B550M (WI-FI) motherboard, TUF Gaming LC 240 RGB cooler and TUF Gaming GT301 PC case, decorated in the distinct red, black and white of this infamous Mobile Suit. Deck out the rest of your workstation with the ZAKU II edition RT-AX86U WiFi 6 router, TUF Gaming VG27AQGL1A gaming monitor and ASUS x ZAKU II t-shirt.
The ASUS x GUNDAM collection is now available for purchase in the U.S. To learn more about the full product catalog, visit our website at ASUS x GUNDAM | ASUS US and follow us on Twitter at @ASUS_ROGNA and @ASUSUSA.
ASUS is a multinational company known for the world's best motherboards, PCs, monitors, graphics cards and routers, and is ranked by Laptop Mag as the best laptop brand in 2020. Along with an expanding range of superior gaming, content-creation and AIoT solutions, ASUS leads the industry through cutting-edge design and innovations made to create the most ubiquitous, intelligent, heartfelt and joyful smart life for everyone. With a global workforce that includes more than 5,000 R&D professionals, ASUS is driven to become the world's most admired innovative leading technology enterprise. Inspired by the In Search of Incredible brand spirit, ASUS won more than 11 awards every day in 2020 and ranks as one of Forbes' World's Best Regarded Companies and Fortune's World's Most Admired Companies.