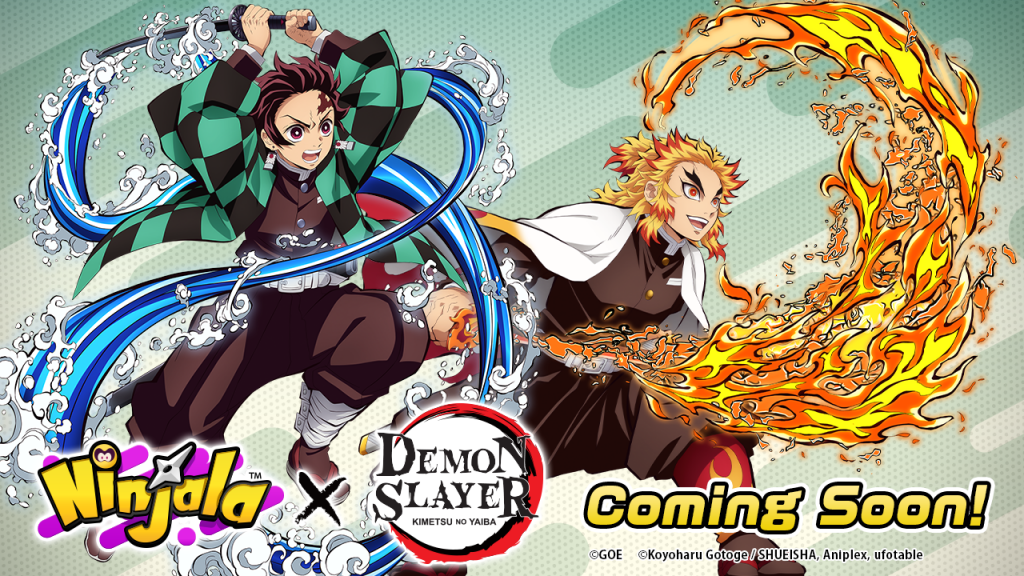 Ninjala, a free-to-play bubble gum brawler on the Nintendo Switch with over 7 million downloads, is celebrating its first anniversary with its biggest collaboration yet! The Demon Slayer: Kimetsu no Yaiba collaboration is coming to Ninjala on July 19th and running through August 30th. With more than double the items than previous collaboration events, this is a can't-miss event for Demon Slayer:Kimetsu no Yaiba fans around the world!
Ninjala is a third-person action game, and the goal of each game is to earn as many points as possible by destroying objectives on the map known as drones and defeating your enemies with STYLE. Players can knock other players out utilizing their Gum Weapons, or, under certain conditions, get a special type of KO called an IPPON!, where enemies fly across the screen in spectacular fashion to then get stuck to whatever surface they were unfortunate enough to land on.
Ninjala is celebrating its first anniversary with a huge matsuri, and you're all invited to the party! Until July 7th, Ninjala is giving away 1000 Jala to all ninjas who log in during the celebration. You can use all that Jala in the Shinobi shop or on the new Ninjala Pass mini for a taste of the Ninjala Pass benefits at a discount! Try out the new stage, Sphinx Valley, and test your skills against a new kind of drone. A new Shinobi Card and Two new yo-yo type Gum Weapons were also added at the start of Season 6, giving all ninjas new and old a brand-new way to strategize and fight! Once you get your gumballs in order, test your strength in the Ninjala First Anniversary Cup on July 17th to earn prizes exclusive to that tournament based on what Rank you achieve! In addition to all of the anniversary celebrations, Ninjala also introduced their biggest collaboration yet, featuring the ever-popular anime series, Demon Slayer: Kimetsu no Yaiba!
This collaboration features Avatar items stylized after characters from the Demon Slayer: Kimetsu no Yaiba series such as Tanjiro Kamado, Nezuko Kamado, Kyojuro Rengoku, and much, much more! Not only can you customize your in-game avatar in Demon Slayer gear, but you can also customize your battle style! Equip IPPON decorations, the decorations that display when a player gets an IPPON, Ninja-Gum Weapon skins for Tanjiro, Zenitsu, Inosuke, Giyu, Shinobu, Rengoku, and Kanao based on the characters' swords, stickers featuring Ninjala and Demon Slayer characters, and emotes like the First Form: Water Surface Slash, to show-off to your fellow Ninjas. You can pick up all of that and more in the brand-new Shinobi Shop, our one-stop shop for all your aesthetic needs!
Once you get your style down and you've got the hang of this ninja business, it's time to register for the "Demon Slayer: Kimetsu no Yaiba Cup" which you can find in Ninjala's in-game online tournament feature. In this tournament, you'll be battling and climbing the ladder for a chance at winning more Demon Slayer: Kimetsu no Yaiba-themed items as Rank Rewards. All players who participate in the tournament will receive a Participation Prize on top of all of their Rank Rewards!
Check out Ninjala's official site for more information on the collaboration and get your Ninja career started!
Ninjala site: https://ninjalathegame.com/en/