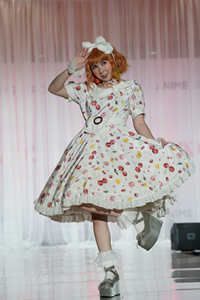 Be a part of the runway! We are now accepting applications for AX 2022 Fashion Show models! Details about Fashion Show brands will be announced soon, so stay tuned! Selected applicants will receive a complimentary 4-day badge to Anime Expo and an unforgettable experience!
Deadline: April 7, 2022 or until all slots have been filled
Requirements
Applicants must be 18 years or older to apply.
You must be available to attend the following:

Online model training sessions.
Wednesday, June 29th from 10:00 AM – 4:00 PM for fittings.
Thursday, June 30th from 10:00 AM – 4:00 PM for fittings and rehearsal.
Saturday, July 2nd from 6:30 AM – 3:00 PM for hair, makeup, dress rehearsal, and the fashion show itself.
*Note: We cannot make accommodations for anyone who cannot commit to the above required attendance. Please do not apply if you are unable to make any of the above requests.

Must be able to bring your own shoes to rehearsal and show day. We will give you details on what style of shoes to bring.
If you apply and model for us, there is an expectation that you act in a professional manner with our guests, staff, volunteers, and other models.
You will be changing clothes in front of other models, so please wear appropriate undergarments (neutral or skin color is preferred, especially for show day).
You will be required to provide your own food/snacks/drinks. Please avoid food that can transfer grease onto fashion clothing.
Leaving the premises on show day is not permitted, so plan accordingly.
Must provide proof of Covid-19 vaccination or a negative test taken within 72 hours of each in person meeting.  Mask will be required indoors.
---
Anime Expo 2022  will run from July 1 through July 4 at the Los Angeles Convention Center.
For more information about attending AX, check out our How to Attend guide.
Download our mobile app to stay up-to-date on announcements!