The Anime Expo Masquerade ha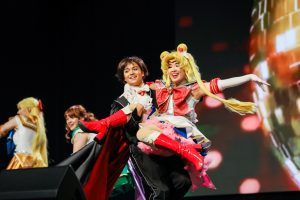 s been a longstanding tradition, running for over 25 years. Every year, cosplayers bring the best in performance and craft to entertain the audience and impress our incredible cosplay judges.
The World Cosplay Summit USA Finals is a cosplay craftsmanship and performance competition where WCS Team USA is selected to represent the United States at the WCS Championship in Japan. Since making its home at Anime Expo in 2017, the World Cosplay Summit USA Finals has shared the stage with the AX Masquerade, making our Main Events stage shine with some of the best cosplayers in the country.
Tickets On Sale:
Premier Fan: Tuesday, March 29 at 12 PM PT
General Attendee: Thursday, March 31 at 12 PM PT
AX Masquerade & World Cosplay Summit USA Finals
When: Sunday, July 3, @ 8 PM – 11 PM PT
Where: LACC / Main Events (West Hall B)
Price:  $7 – $17

Section A (front section): $17
Section B (middle section): $12
Section C (back section): $7
4 ticket limit per order. Must have a ticket plus a badge (either Premier Fan, 4-Day, or Saturday 1-Day badge) valid for the day of the event for entry. Check-in begins 1 hour prior to the start of the event and will end promptly at 9 PM, 1 hour after doors close. No refunds or exchanges for missed shows. All sales are final.
---
Anime Expo 2022 will run from July 1 through July 4 at the Los Angeles Convention Center.
For more information about attending AX, check out our How to Attend guide.
Download our mobile app to stay up-to-date on announcements!