Are you ready to DANCE?
Here is the second batch of DJ's joining Anime Expo 2022 for AX Dance:
FIND THE RABBIT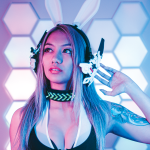 FIND THE RABBIT is a VJ+DJ based in San Francisco, CA. Started off her DJ career in late 2020 gaining popularity on Twitch mixing her favorite sounds of Hard Dance (Happy+UK Hardcore, Psystyle, Hardstyle) to Trance (Uplift, Psy, Tech) while topping off the energy with K-POP remixes & J-Core. From bedroom DJ to Twitch Partner and now performing AX live!Rabbit has operated 1000+ visual events in the Music industry since 2014.
(NVIDIA, SF Pride, Adventure Club, Rezz, Darren Styles, Bryan Kearney +more)

"I hope I can make you feel happy to survive life to experience this."

You found the rabbit.
https://www.twitch.tv/findtherabbit
https://www.instagram.com/find_the_rabbit
https://streamerlinks.com/FindTheRabbit
ohyea

ohyea is a new and upcoming producer/DJ who is starting to take his emergence in the EDM
culture. With his musical flavors ranging from a little bit of everything for everyone, Not sticking to just one genre. His High energy performance will be sure to get everyone dancing and grooving to the music He is one to be sure to look out for, especially with his first ever debut performance at Anime Expo!
Darkstarr
Darkstarr is a So Cal native that currently resides in Cincy Ohio. In the early 2000's he got his start spinning at underground raves in the Southern California desert. More recently Darkstarr has had the opportunity to play out in several states and has played at venues both small and large.  He's always had a deep love for Happy Hardcore and what it represents: life, love, and happiness.
Maid Nagi

Maid Nagi is an American music producer and DJ from Los Angeles, CA. Originally from Houston Texas, Maid Nagi moved to Los Angeles to hyper start her career in the EDM/AniSong scene and found success as a livestreamer on Twitch.tv- gaining her partnership and tens of thousands of followers, placing her within the 0.3% top streamers on the Twitch platform. Now producing a wide variety of music tracks, played by hundreds of DJ's around the world, and collaborating with the best in the industry, Maid Nagi is honored to be a part of Anime Expo's dance, bringing high-energy beats and the AniSong energy you love to dance to. Outside of the music world, Maid Nagi is an avid cosplayer and the Head Maid of Arcane Maid Cafe, an Akihabara-inspired maid cafe based in Los Angeles.
https://www.instagram.com/nagi.cos/
https://www.twitch.tv/maidnagi
http://www.twitter.com/maidnagi
dooi
Dooi is a hardcore DJ and producer from St. Louis, but currently lives in the Washington DC Metro Area.
With a background of playing shows and touring with multiple punk and metal bands since 2008, dooi has always been about high energy and involvement. Since beginning DJ'ing in 2019, dooi has played various live events and also created AMV-esque visuals to couple with live streamed sets. Despite producing for less than a year, he hopes to add to the scene he's loved for years.

For AX Dance, dooi is planning his highest energy set yet, complete with Japanese Hardcore and Anison remixes/bootlegs!
https://www.soundcloud.com/dooimusic
https://www.twitter.com/dooimusic
https://www.instagram.com/dooimusic
All Hell Breaks Loops
All Hell Breaks Loops is a multiclass DJ/VJ from Los Angeles. His video talents have placed him everywhere from the boardroom to the greenroom, with a mixed media/mixed format style porting the worlds of anikura, EDM, bespoke 3D renders, and unintended artifacts.  A product of the southern California anisong/doujin scene, briefly exported to performances in Tokyo, Japan, AHBL's talents now extend to club and festival bookings including The Academy, The Shrine, Avalon, and Mogra (Tokyo).
instagram.com/allhellbreaksloops
Plus, more TBA!
Be on the lookout for more performer announcements!