We are excited to announce Sony Music Entertainment Japan's participation in Anime Expo 2022! Introducing– The Anime Men! The Anime Men are a group of kids from Southern California. They created a super successful tiktok account, combining Anime Music, and comedy for the globe to enjoy.
 In the Garage with The Anime Men 
Time: Friday, 10:30 AM
Location: Petree Hall
The Anime Men blend the lines of all-things Anime and Social media. Japanese Anime, Anisong, and More!!
About The Anime Men: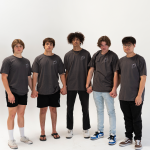 The Anime Men are a group of men who love watching Anime, and use that passion to create videos.
---
Anime Expo 2022  will run from July 1 through July 4 at the Los Angeles Convention Center.
For more information about attending AX, check out our How to Attend guide.