Located in Kentia Hall adjacent to Artist Alley, The Annex features cutting-edge fashion and art. The Annex is a place to discover something new, something edgy, something fun and exciting.
This year, we're excited to showcase Dominic Glover and S-Class Supply. They will both be working on large-scale art pieces, so be sure to stop by The Annex to see their artwork evolve over the course of Anime Expo. Plus, visit the Charity Auction on Monday for a chance to own one of their pieces.
About Dominic Glover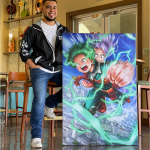 Dominic Glover's experience started out like any artist's: starting with an idea and bringing it to life. Since 2013, Dominic has been working as a professional illustrator and graphic designer by creating works that have been published and licensed by the likes of Marvel Entertainment, Warner Brothers, Pulsar Entertainment and more!
Along the road, Dominic worked as an in-house designer and illustrator for large corporations. He's also worked as a lead designer at a smaller agency. At the agency, Dominic learned how to juggle multiple clients and work efficiently without losing the overall scope and quality on any client's project.
Working in-house at larger companies helped provide Dominic with new professional insights. Creativity with consistency became the motto. Following brand guidelines, meeting tough deadlines, and developing strong relationships with clients helped Dominic sharpen his problem-solving abilities the same way he'd initially sharpened his illustration talents.
Now he works as a freelance artist utilizing every skill he's learned. He's combined a professional approach to creative work without losing touch with the quality and artistry necessary to bring any individual project to life. He's expanded his offerings to include logo design, book illustrations and even brand identity development. Now, his freelance illustration and graphic design career takes a strategic approach to the creative side of your business.
Based out of Phoenix, Arizona, Dominic's illustration and graphic design services now have a global appeal. That comes from Dominic's frequent trips to art galleries and comic book conventions—where he gets to share his art—as well as his rounded professional background.
About S-Class Supply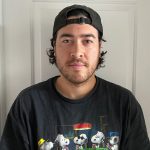 Wazzaaaa!
My name is Justin Colegrove, Simi Valley native currently residing in Los Angeles CA. What started out as a Covid activity quickly turned into a full time "job" tufting custom rugs. I've always bounced around trying new mediums, and rug making was next in line. After doing tons of research I was ready to begin January 2021 in the corner of my dining room. I quickly became infatuated with learning the process and had all the time in the world to figure it out due to unemployment. 
Most of my work is heavily influenced by anime and gaming, two peak interests of mine. I enjoy making larger, more detailed rugs so expect to see just that!
All I really want to do is have fun, make art, and keep improving my craft. Thank you to all the friends and supporters along the way.
---
Anime Expo 2022  will run from July 1 through July 4 at the Los Angeles Convention Center.
For more information about attending AX, check out our How to Attend guide.