Drawing is exciting! Get to know more about pixiv's global illustration community and culture! Learn about pixiv's services that help illustrators build their relationships with fans and work towards becoming professionals. Illustrator Airi Pan will be joining the panel!
pixiv Industry Panel
Time: Saturday, 10:15 AM
Location: 408 AB
About Airi Pan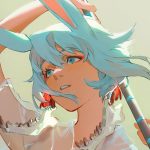 Currently a senior concept designer at Blizzard Entertainment, Airi Pan is a professional concept designer and illustrator for games, animation, film, and more.
Clients include Netflix, Pixar, Activision, Warner Brothers Animation, CDProjekt Red, Turtle Rock Studios, and many others.
An avid pancake enthusiast.