We are proud to announce Ranking of Kings' Director Yosuke Hatta, and Animation Producer Maiko Okada as Guests of Honor for AX 2022! Join Crunchyroll and the Director and Animation Producer of Ranking of Kings from WIT STUDIO for a Q&A session. Don't miss your chance to hear about some of the behind-the-scenes and reminiscing about some of the best moments!
Ranking of Kings Panel by WIT STUDIO and Crunchyroll
Time: Sunday, July 3 @ 1:00pm
Location: Petree Hall
About Yosuke Hatta
He has debuted as a Director in Ranking of Kings. He has previously worked as a Storyboarder and Episode Director in Death Parade, One Punch Man, ACCA: 13-Territory Inspection Dept., as Unit Director in Doraemon the Movie: Nobita's New Dinosaur, and Assistant Director in Boogiepop and Others, worked in other numerous animations.
About Maiko Okada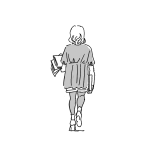 Maiko Okada has been in the anime industry since 2001 and has been an Animation Producer since 2014. She has worked on various anime from WIT STUDIO, like Ranking of Kings, Great Pretender, After the Rain, and Kabaneri of the Iron Fortress.