Will Battle a Kaiju Invasion During Multiple Appearances at the
Anime Expo 2022 Convention July 1 – 4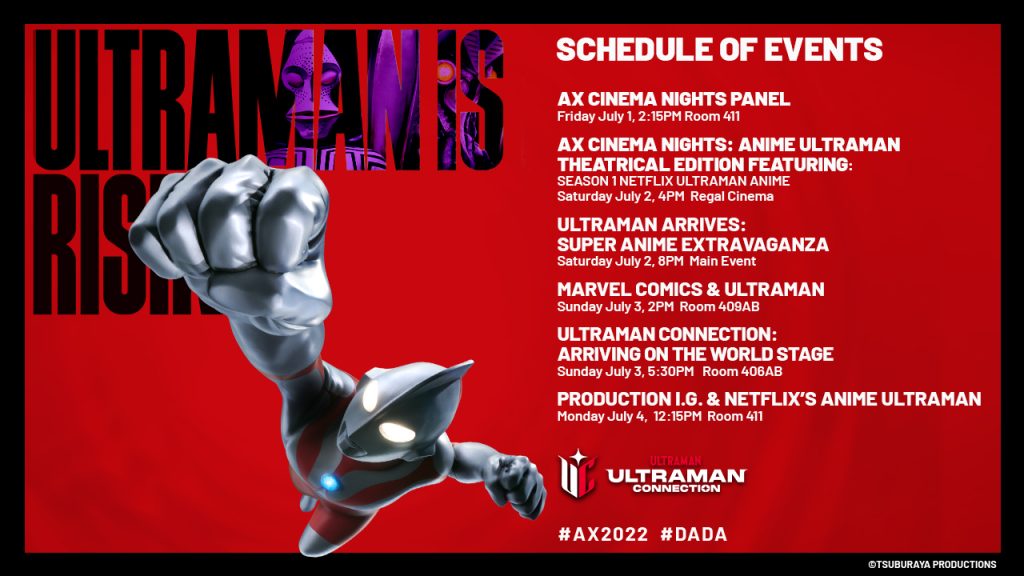 The celebrated superhero Ultraman and his cohorts will perform in live shows and personal appearances for the first time ever in the United States at the Anime Expo convention, July 1 – 4 at the Los Angeles Convention Center.
Ultraman is one of the most recognizable characters in the world with ongoing series totaling over 1,400 episodes and dozens of feature films, most recently Shin Ultraman, which has generated over 3 billion yen in Japan since its May 2022 theatrical release. But the franchise has had little airplay in North America since the early 1990s. With anime ULTRAMAN as its vanguard, the 40-meter-tall silver and red Giant of Light hailing from the M78 Nebula is about to change all that.
Although Ultraman is most famous for various television series incarnations, a live venue version of the show, complete with spectacular battles between Ultra Heroes and their giant Kaiju foes has toured Japan for decades. The expo marks the first time the show has reached North American shores.
The participative storyline and promotion, dubbed Ultraman Rising was developed by producer Jeff Gomez, creative supervisor of Iceberg Theory's Ultraman Connection international fan hub. The Hunt for Dada and Baltan narrative will unfold over several "chapters," which will include panels, performances, and prizes throughout the convention's 4th of July weekend. These include:
FRIDAY, JULY 1
2:15pm — AX Cinema Nights Panel – Room 411
Iconic Events film distribution will make a special ULTRAMAN announcement with Co-directors Kenji Kamiyama & Shinji Aramaki
SATURDAY, JULY 2
4pm – AX Cinema Night – Anime ULTRAMAN: Season 1 Theatrical Edition – Regal Cinema
Co-directors Kenji Kamiyama & Shinji Aramaki will answer audience questions after the first screening ever of the theatrical edition of the hugely popular Netflix series' first season.
8pm – Ultraman Arrives: Super Anime Extravaganza – Main Event Hall
A celebration of the new age of Ultraman featuring major announcements that will set the stage for the future of the franchise. Guests include Shannon Tindle & John Aoshima (co-directors of an all-new Netflix Ultraman feature with animation by Industrial Light & Magic), Shinji Aramaki & Kenji Kamiyama of Production I.G., Mat Groom & E.J. Su, creators of the new Marvel Comics Ultraman series), and an array of anime ULTRAMAN characters in live performance.
SUNDAY, JULY 3
2pm – Marvel Comics & Ultraman – Room 409 AB
Mat Groom, E.J. Su, and Jeff Gomez will have special announcements about the future of Ultraman's Marvel Comics incarnation, plus an Ultra special guest! Hosted by Whitney Van Laningham of New Rockstars.
5:30pm – Ultraman Connection: Arriving on the World Stage – Room 406 AB
Whitney Van Laningham, Sean Nichols, and the staff of Iceberg Theory's international fan hub UltramanConnection.com will detail plans for the upcoming Ultraman Day—and a photo session with Ultraman will be held!
MONDAY, JULY 4
12:15pm – Production I.G. & Netflix's Anime Ultraman – Room 411
Host Sean Nichols interviews Kenji Kamiyama and Shinji Aramaki of Production I.G., one of the most famous of all Japanese anime studios.