We are incredibly excited to announce that the renowned mecha designer and game creator, Mika Akitaka, will appear as a Guest of Honor at Anime Expo 2022!
As we look back on and celebrate over 30 years of Anime Expo history, fans may remember that Mika Akitaka previously attended the convention as a Guest of Honor way back in 1999! Moreover, he holds a special place in Anime Expo history as the original creator of our iconic mascot, MAX. MAX has been gracing the cover of our annual program guide since 2012! Now, Mika Akitaka is returning to Anime Expo with a 2022 MAX redesign.
Initially designed in 1999, MAX typically has a mecha girl look with her red and white armor suit and wings. To celebrate our return to in-person Anime Expo and its belated 30th anniversary, Mika Akitaka has reimagined MAX with some elements of '90s-anime aesthetic that complements her classic look with a contemporary twist. MAX's new design will be featured in the AX 2022 Program Guide Cover.
But that's not all: We created a variety of convention-exclusive merchandise of the reinvented MAX in the show shirt, acrylic stand, show poster, and a limited-edition skate deck that will be available for sale at the AX merch booths!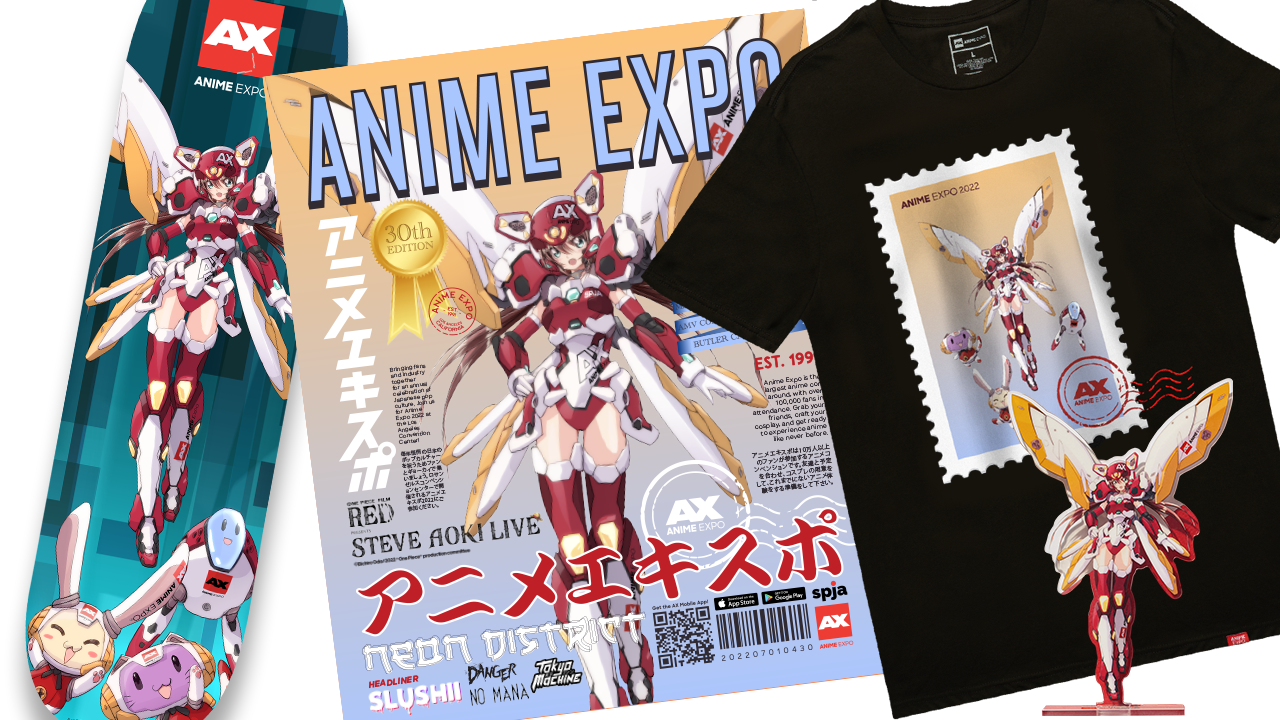 MAX, however, is more than just an icon. During her time as Anime Expo's iconic mascot (her name even standing for "Mascot of Anime Expo"), she has also inspired countless artists to create their own versions of the beloved character — making her the perfect embodiment of Anime Expo's spirit of collaboration, innovation, and appreciation.
Don't miss your chance to own a piece of Anime Expo history and meet Mika Akitaka during one of his scheduled autograph sessions and at his panel! We look forward to seeing all of you in person at the Los Angeles Convention Center this July!
Friday, July 1
Guest of Honor Autograph Session
Kentia Hall
1:00PM – 2:00PM
*Please get your autograph ticket at the Ticketing Booth at Gilbert Lindsay Plaza
Saturday, July 2
Skate Deck Autograph Session
West Hall Live Stream Broadcast Stage
1:30PM – 2:30PM
*Reserved for attendees who has purchased the Mika Akaka Skate Deck from the AX Merch Booth
Saturday, July 2
Mika Akitaka Guest of Honor Panel
JW Marriott Platinum Ballroom
5:00PM – 5:50PM
*Times and location are subject to change