Join in on TRIGGER's live drawing by Shigeto Koyama and Yoh Yoshinari, the character design of PROMARE and Cyberpunk: Edgerunners! Enjoy the show and ask away any questions to your heart's content!

Event Date/Time: Friday, July 1 @ 4:30 PM
Event Location: JW Marriott Platinum Ballroom
About Yoh Yoshinari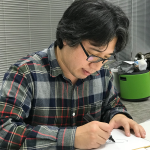 Born in Tokyo, Japan in 1971, Yoshinari is a renowned animation director, illustrator, and character designer.
Making a debut at Gainax, Yoshinari is currently one of the key figures at Studio TRIGGER. As an animator, Yoshinari has taken part in numerous notable titles such as Neon Genesis Evangelion and FLCL. For GURREN LAGANN he was responsible for the mechanical designs. He has even filled the role of concept designs for titles such as Panty & Stocking with Garterbelt and KILL la KILL.
Since his transition to Studio TRIGGER, Yoshinari has directed two titles, Little Witch Academia and BNA, and he will be designing the main characters for TRIGGER's latest project Cyberpunk: Edgerunners.
About Shigeto Koyama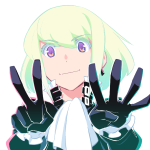 Designer Shigeto Koyama began his career working on the series Diebuster with the historic Studio GAINAX, and went on to take part as a designer in a variety of massively popular and critically acclaimed projects, including GURREN LAGANN, Rebuild of Evangelion, KILL la KILL, and the Academy Award®-winning Big Hero 6. In 2015, Koyama made his directorial debut with the short film Obake-chan, and has worked on additional Studio TRIGGER projects, including PROMARE and STAR WARS: VISIONS "THE TWINS" as character design.